Remains of over 62,000 victims of the 1994 Genocide against the Tutsi recovered from areas around Kabuga trading centre last year, will be laid to rest later this month at Nyanza Genocide Memorial.
The memorial is located in Kicukiro District.
The remains, which were discovered in Kabuga between April and September last year, will, according to Naphtal Ahishakiye, the Executive Secretary of Ibuka, be interred on March 29.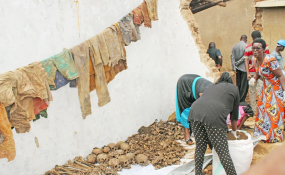 Kabuga lies on the Kigali-Rwamagana highway, and here, over 40 mass graves were discovered beneath houses.
Over 40 mass graves were found beneath houses in Kabuga last year, and authorities believe thousands remain in mass graves in unknown areas all over the country.
It is almost 25 years since the 1994 Rwanda Genocide. The United Nations set aside April 7 as the day to not only commemorate the event but also honour the victims.