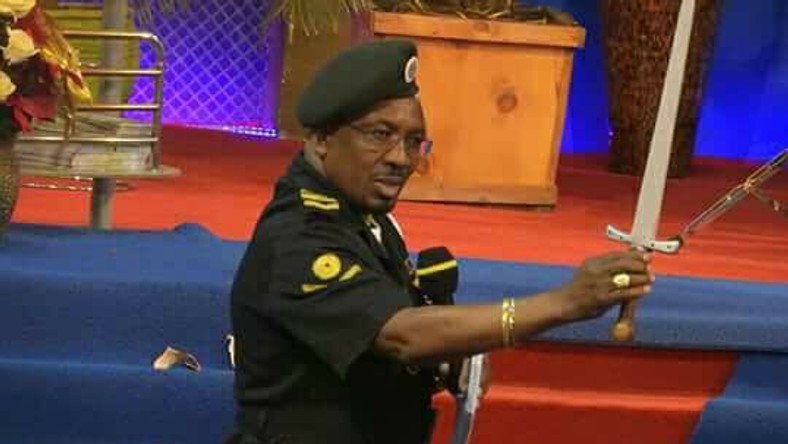 Pastor Ng'ang'a of neno evangelism has once again landed in trouble over his remarks directed to citizen journalist Linus Kaikai.
The preacher had in a previous video criticized Linus Kaikai's calls to regulate preachers who have taken religion too far and marred with allegations of fraud and fake miracles.
In a viral video released last week, the pastor, dressed in military-like fatigue and calling himself a "Chief General Commander" threatened unexplained "consequences" believed to be directed at Kaikai.
Bishop Ng'ang'a, who has been marred in controversy in the past, admitted that he is not educated but that would not stop him from preaching the gospel.
Donning expensive jewellery, Ng'ang'a stated: "Mimi sijui kusoma na mimi ndio mwanzilishi wa hii kanisa. Watu hawahitaji kusoma ndio wajue Mungu (I don't know how to read and I'm the founder of this church. People don't need to be educated to know God)."
The preacher cautioned Kaikai from making reckless remarks and claiming that preachers are stealing from their flock.
"Hamwezi kutu block, Bunge mmeenda nyinyi, makazi makubwa mmeenda nyinyi, ministers ni nyinyi… sisi watu hatujui kusoma tubaki na kuosha barabara (You can't block us, you are the ones in Parliament, you are the ones holding big jobs, you're the ministers… You want us the uneducated to remain washing roads (sic)?" Pastor Ng'ang'a asked.
He argued that education was not a determining factor for one to be a pastor.
Kaikai had argued that preachers need to be regulated and ensure they have relevant papers such as certificates of good conduct and certificates indicating they have studied theology.
Ng'ang'a was picked up from his church at the junction of Haile Sellasie Avenue and Uhuru Highway and locked up at Muthaiga Police Station after Kaikai had complained he felt threatened following video footage that the pastor produced attacking him.