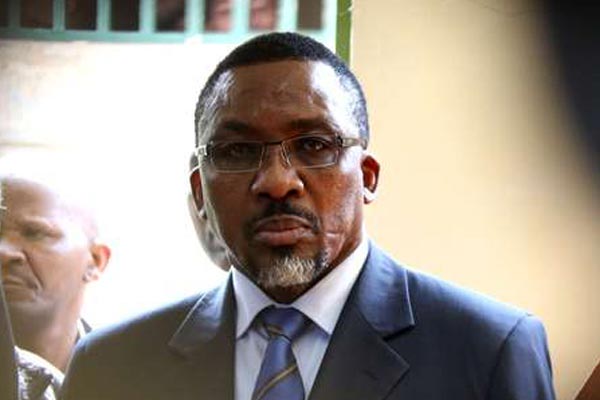 Apostle James Maina Nganga has lived a total of 9 lives. This man has seen too much that he is now a man of God. He was arrested on Sunday and spend the night at Muthaiga Police Station after threatening Linus Kaikai.
But there is more to the man of God, more than you can ever know.
1.He is an ex-convict who has served several jail terms for theft and other misdemeanours.
He formed Neno Evangelism in 1992. As at 1997, the church was estimated to be worth Ksh 100 million.In 2012, a local radio station reported that a drunk Ng'ang'a got into a fight with his wife and security guard.
I think Pastor James Nganga didn't mean to threaten Linus Kaikai. He Simply got mixed up with English Sentence structures as he was trying to explain his lack of education.— Alex Chege (@kibunjax) March 18, 2019
He married Loise Murugi Maina in 2012 after his first wife passed on. She accuses the flamboyant pastor of assaulting her physically and not providing for their two children. She also later learnt that he was adulterous, sleeping with staff and bringing married women to their matrimonial bed.
Am happy Pastor James Ng'ang'a messed with rich and well connected Linus Kaikai.. He's used to victimizing the poor in the name of God… Which God allows people to kill and threaten others instead of praying for them? Gospel conmen have no space and should not be let to breath. pic.twitter.com/SwrZg14cdd— Tom Muema (@1tommuema) March 18, 2019
James Maina Ng'ang'a got involved in a car accident on July 26 2015, on the Nairobi-Nakuru highway that killed one and left another person in critical condition. Eye witnesses say he was drunk and driving on the wrong side of the road. After the rogue Pastor committed the crime he disappeared, leaving his car behind.
Dirty and stained panties, empty beer bottles and both used and unused condoms were found in Apostle Ng'ang'a's Range Rover at the scene of accident.
In December 2012, Mr. Kamau Gathee's 16 year old son was also run over and killed by the Pastor a few metres from where the July 2015 accident took place.
Pastor James Ng'ang'a of Neno Evangelism gets arrested over threats made to Citizen TV journalist Linus Kaikai. Just the other day he was throwing shade in a video about journalists saying pastors should've gone to school. Kidogo kidogo, Maandamano pap! Ati Mtu wetu is Targeted. pic.twitter.com/F92IElHzIQ— BRAVIN™ (@ItsBravin) March 18, 2019
On August 27th 2015, Limuru Senior Resident Magistrate Timothy ole Tanchu denied a request by the prosecution for Ng'ang'a's DNA samples. The prosecution had requested to take Ng'ang'a's blood samples to the Government chemist for comparison with the blood that was collected at the scene of the accident.
Why arrest Pastor after saying Linus Kaikai will face kwes kwes instead of consequences ? Is that a priority!!!! pic.twitter.com/c7YBuNEgt6— Nairobi Finest Channel (@edudee254) March 18, 2019
On 3rd May 2018 Apostle James Maina Ng'ang'a was introduced to a Limuru Magistrate Godfrey Oduor by former DCI boss at a Java in Kileleshwa where the Magistrate was offered Ksh 7 million to acquit him and his co accused. The Judge was promoted by Chief Justice David Maraga two days later.
James Nganga and controversy one side. He's been arrested for threatening Linus Kaikai…. I think he is the indisputable record holder of the most arrested pastor in Kenya. pic.twitter.com/cgh3SZCnVO— Bobby (@Bob_Odhiambo) March 18, 2019
In May, 2018, James Maina Ng'ang'a together with the police officers who were his co-accused were acquitted for the crimes they committed.