Apostle James Maina Ng'ang'a of Neno Evangelism's story is one of rags to riches. His lavish lifestyle as reported by Sunday Nation of January 21, 2007, belies a poverty-stricken childhood and several jail terms for theft and other misdemeanors.
It is not clear, however, when he was in jail. He formed Neno Evangelism in 1992. In 2007, his manager, William Mburu, estimated that the church was worth Sh100 million.
The church is sandwiched between two petrol stations along Haile Selassie Avenue.
In 2012, a local radio station reported that a drunk Ng'ang'a got into a fight with his wife and security guard.
His wife would later allege in court papers that he lives in Karen and owns a fleet of cars.
Apostle Nganga is a wealthy man bathing in money. His life has however been overshadowed with controversy after controversy
It will be remembered that he once killed a motorist in Limuru but somehow managed to get away with the murder after allegedly using money to buy his freedom.
A City trader had also at one point accused Nganga of conning him over 3 millions shillings in rent.
Nganga would also early this year make headlines after he alleged that he had cast demons from renowned Gospel Singer Rose Muhando.
His enstranged Wife Loise Murugi Maina had also accused the flamboyant pastor of assaulting her physically and not providing for their child.
She even sued Nganga for Child support and was demanding for over 500,000 in Child support.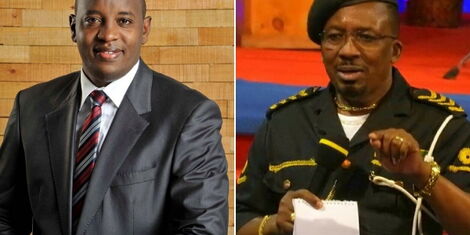 Today, Nganga is the center of another discussion after he took a video of himself threatening Citizen TV Journalist Linus Kaikai with dire consequences over his remarks regarding Pastors in Kenya.
Linus Kaikai said that Pastors should have a degree in Theology so as to help curb the rise of fake pastors out to extort Kenyans.
This angered Nganga who would viciously respond to Linus promising him dire consequences.
He would later be arrested on Sunday by the Police. It remains to be seen if he will also get away with this grave crime this time too like he has always done.