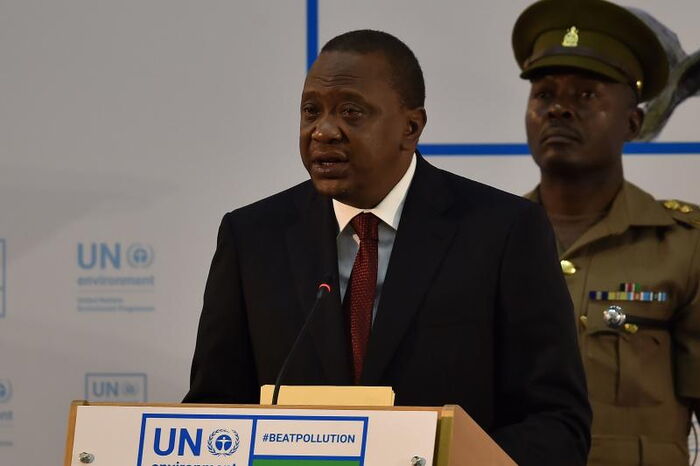 President Uhuru Kenyatta had affirmed Kenya's commitment to achieve a minimum of 10 per cent forest cover by 2022 as part of the country's efforts to address the challenge of climate change. He said his administration has identified forestry as a key sector of investment in the realization of the country's development agenda and is implementing the national green growth strategy that has set clear restoration targets aimed at achieving the global Sustainable Development Goals (SDGs).
"Today we are here to show commitment and on behalf of our government and our people, I am pledging that by 2022, we want to reach a minimum of 10 per cent forest cover in our country as a way of also ensuring that we play our part both as a government and as members of the global community," President Kenyatta said.
He called for concerted efforts towards environmental conservation, saying forests like the oceans are the lungs that keep the planet alive. "Investment in sustainable management in the conservation of our forests is one of the most effective interventions to combat climate change in Kenya," the Head of State added. He was speaking at UNEP in Gigiri, Nairobi when he and French President Emmanuel Macron officially opened the One Planet Summit, also attended by Deputy President William Ruto and former Prime Minister Raila Odinga among other local and international leaders.
President Macron commended President Kenyatta's commitment to environmental conservation and praised Kenya for hosting the One Planet Summit. The French leader said the Nairobi summit was special because it proved that it was not only the Western world that was concerned about climate change and environmental conservation but also Africa. "Africa is key in this project because it bears the first direct impact of climate change," President Macron said.
President Kenyatta said the One Planet Summit which builds on two previous summits held in Paris and New York signals a strengthening of cooperation in scaling up environmental conservation and climate action. He pointed out that deforestation and degradation of the environment ultimately undermines biodiversity conservation and climate change mitigation as well as adaptation. The President said the loss of forest cover exacerbated the impacts of climate change leading to natural hazards such as droughts, fires and floods.
Other dignitaries present at the assembly included President Andry Rajoelina (Madagascar), President Maithripala Sirisena (Democratic Socialist Republic of Sri Lanka), President Felix Antoine Tshisekedi (Democratic Republic of the Congo) and Prime Minister Edouard Ngirente (Rwanda).