Former Barcelona and Bayern Munich manager, Louis van Gaal is gone from the game he loves. The Dutchman has retired from football aged 67 – three years after being sacked by Manchester United . The Dutchman spent two years in the Old Trafford dugout before being relieved of his duties following the Red Devils' FA Cup success in 2016.
Manchester United finished fourth and fifth under his tenure before he was replaced by Jose Mourinho in the summer of 2016. Van Gaal has been linked with a host of jobs in the meantime, and recently rejected the chance to take over at Dutch side Feyenoord next season.
But he has opted to call it a day, stating he will walk away from the game altogether. Van Gaal told Dutch TV show VTBL: "I am a pensioner now. I have no ambition to be a technical director or a TV pundit.
"My wife Truus gave up her job for me 22 years ago, and followed me when I went abroad. I told her I would quit as a coach when I turned 55, but instead kept going until I was 65. She is entitled to have a life with me outside of football. I can say she is very happy."
"I think I could have worked as a technical director. But in this role you can't attend training or say anything for fear it won't suit the coach, directors or media. I don't think I want a job like that."
"But in this role you can't attend training or say anything for fear it won't suit the coach, directors or media. I don't think I want a job like that."
Before his career as a coach, Van Gaal played as a midfielder for Royal Antwerp, Telstar, Sparta Rotterdam, Ajax and AZ. He is also a fully qualified physical education teacher, and worked at high schools during his career as a semi-professional footballer.
After a brief spell as an assistant coach at AZ, Van Gaal served as the assistant under Leo Beenhakker at Ajax and eventually took over as head coach in 1991.
Van Gaal moved to Barcelona in 1997, taking over from Bobby Robson, and helped the team win two La Liga titles (1997–98, 1998–99) and the Copa del Rey once. Despite this success, he clashed with the media and came under criticism.
He expressed that it was difficult to implement his football philosophy at Barcelona due to cultural differences, and that he struggled hard as some players were unwilling to follow his lead.
Van Gaal returned to Barcelona for the start of the 2002–03 season on a contract until June 2005, but results were inconsistent. The club won a record-equalling ten successive matches in the Champions League but struggled in La Liga.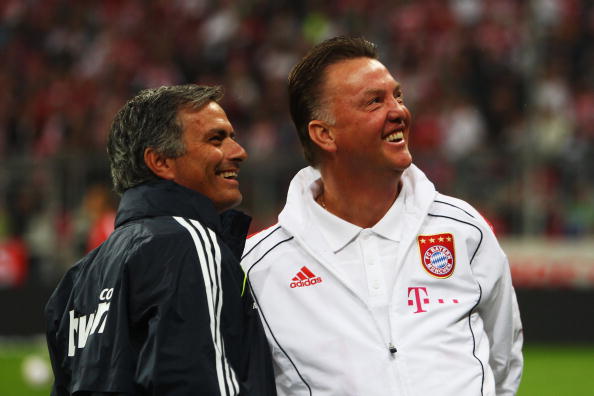 After four wins, four draws and three defeats from their opening 11 league matches, Barcelona lost three matches in a row, to Real Sociedad, relegation-threatened Rayo Vallecano and Sevilla.
On 1 July 2009, Van Gaal took over as coach of Bayern Munich. He referred to his new employer as a "dream club". On 28 August 2009, he strengthened his team by signing compatriot Arjen Robben from Real Madrid; this reunited the two, with Van Gaal selecting Robben for his debut in the Netherlands U20 team. He won the treble with the German club before he moved back to coach Netherlands.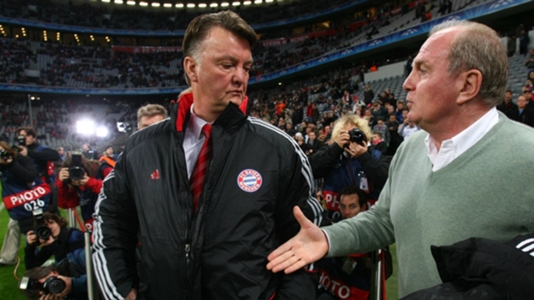 Van Gaal was presented as the new Netherlands coach. "I am happy that the KNVB approached me," said Van Gaal, who was assisted by former Dutch internationals Danny Blind and Patrick Kluivert, both part of his successful Ajax squad from 1995.
"This is the challenge which I have been waiting for. Van Gaal led the Dutch national team to the Bronze medal at the 2014 World Cup after he was already appointed to be Manchester United's manager.
In 2008, Van Gaal married his current wife, Truus, with whom he shares a holiday home near Albufeira, Algarve, Portugal. According to The Daily Telegraph, it emerged in 2009 that Van Gaal had lost millions of pounds investing in fraudster Bernie Madoff's Ponzi scheme.
On 17 January 2017 it was announced that Van Gaal had retired "for family reasons". He later said that it was only a sabbatical but has officially called it a day this time around