There is nothing as bad as when Kenyans on Twitter come together for a unity of purpose. This is a group of no nonsense people who forced Twitter to temporarily suspend the Photo Account of New York TImes.
And Transport CS James Macharia has come under a scathing attack from the same group after organizing a press conference, just to say that the striking aviation workers are criminals.
Transport CS James Macharia is a boring public servant. An embodiment of public looting and gross incompetence. He is that rich entitled kid who has never seen any suffering in his life. He is our shame as a republic.— Lord Abraham Mutai (@ItsMutai) March 6, 2019
Macharia, arrived at JKIA on Wednesday morning after aviation workers downed their tools, forcing Kenya Airways to temporarily suspend their flights.
" These people are a bunch of criminals." He said. He even used the police to beat up and maim the striking workers.
Videos of workers who had been lobbed with teargas later surfaced online. KAWU Secretary General Moss Ndiema was arrested during the melee as KDF soldiers were deployed at the airport.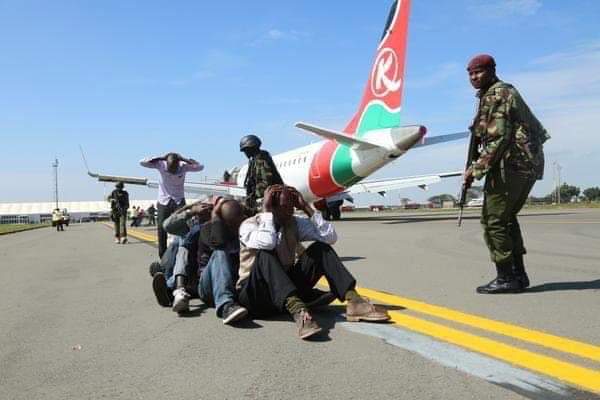 But Kenyans have not spared the CS who has been heavily mentioned in major corruption scandals in his Ministry.
It's is stupid to use GSU to beat workers on demonstration (which is a constitutional right) just because they have said #StopKQKAAMerger and saying no to #JKIAScam pic.twitter.com/BbdjA5rUEN— Mukami Wa Embu 🇰🇪 (@MukamiWaEmbu) March 6, 2019
Using riot police to beat aviation workers back to work like slave laborers is just wrong. There are so many ways of solving strikes in today's world.

But incompetent CS James Macharia can't do anything right because he operates like a broker. #JKIA— Wambui (@Waambui) March 6, 2019
Transport CS James Macharia has no right to call any hardworking patriotic Kenyan a criminal, infact if #JKIA workers are criminals as he purports then he must be the crime itself. Bure kabisa!!!#StopKQKAAMerger pic.twitter.com/x8Kg4cZmNX— Babu Owino (@Babu_Owino) March 6, 2019
CS James Macharia can't call KAWU workers criminals at #JKIA, he needs to find amicable solution to the grievances being raised. Kenya Airways/KAA merger deal should be transparent.

It's time to hold the bull by its balls, enough is enough. #StopKQKAAMerger pic.twitter.com/HYlp4U2fxB— Cyprian Nyakundi Escobar (@CisNyakundi) March 6, 2019
Even as KOT continued to roast the embattled CS, some tried to side with the KAWU workers and explain why they had downed their tools.
Their problems are centered around the proposed merger between KQ and Kenya Airports Authority (KAA). This is the most controversial merger in the history of the world.
Ill-advised Take-Over bid Of profitable #JKIA (KAA) by Bankrupt Kenya Airways is symptomatic Of the Sheer Incompetence & Ineptitude Of Transport CS James Macharia … The only difference btw James Macharia & Rashid Echesa is that Echesa doesn't have even a Class 3 Report Card!— Donald B Kipkorir (@DonaldBKipkorir) March 6, 2019
You see, KQ is a private company that is making huge losses (including on Wednesday when several guests had to be booked in different hotels after missing their flights). Now KQ owes KAA more than sh 4 billion shillings.
KQ cannot manage its own affairs, so imagine mtu ameshindwa kulipa deni yako anataka mfanye na yeye by force.
KQ problems are known by everyone. They have been making questionable decisions and are just paying foreign workers exorbitant salaries.
Former Safaricom CEO Michael Joseph earns sh 3 million as chair of the airline. The former chairman earned 300k.
#StopKQKAAMerger Kenya Airways incompetent and overfed polish management hv no idea of reviving loss making and mismanaged public-listed KQ company other than merging and controlling well managed state corporation Kenya Airport authority. No nobody should stop reggae at #JKIA pic.twitter.com/1USKwwlWhM— Dennis maina (@Dennismaina4) March 6, 2019
Pictures of a document circulating on social media shows that the top manager, CEO Sebastian Mkosz (aka Mikosi) takes home Ksh. 8 million a month. In short KQ pays 21 managers a whooping Ksh. 1.3 Billion a year.
Michael Joesph is also accused of hiring his mistress a Ms. Catherine Kamau, without following the KQ's Human Resource process and paying her Ksh. 1.3 Million a month.
The airline made Ksh. 4 billion and Ksh. 5.6 billion loss in 2017 and 2018 respectively.
So why would anyone propose the airline to take over the management of JKIA? Isn't this impunity of the highest order?
Why can't KAA takeover management of KQ instead? Someone is hiding in the Bush #StopKQKAAMerger— Eric Ja'kanyipola (@Nyukabando) March 6, 2019
The real reason why these aviation workers were beaten by GSU officers is because they are making a lot of sense. The government is so afraid of these whole issue about the JKIA takeover.
But they are still going along with it. The Kenyatta family has been heavily mentioned in the whole saga. It is rumored that the family owns CBA and NIC banks.
@KenyaAirways ( Kenyatta family ) wants a 30 year concession framework under which KQ will seek, through a SPV manage and develop #JKIA at a fee leaving @KenyaAirports to manage all other Kenyan airports / airstrips. Why JKIA @ErikoEric ? @Nyasirwa #StopKQKAAMerger— Rein (@Asamoh_) March 6, 2019
These banks are owed huge amounts of money and they plan to recoup the money through the KAA.
President Uhuru should come clean on this. He should stop telling us to take him to the DCI, because how can a teacher report the principal to the school prefects?