Betty Kyallo recently went to her social media instagram account revealing how she has had one of the most difficult time.
While taking to her instagram stories she wrote, "Been down all week because of something I'll share very soon with all of you. I've been very weak and worried. However, I have been taken care of by my family and my loved one. I appreciate my support team. I love you and especially you. Even being Betty Kyallo hasn't helped. I had to be a human being to go through what I went through and I'm still going through. I am embracing each moment and doing the best I can do. I am as human as you are even though I am Betty Kyallo. I am a mum, a daughter, a sister. I'll share with you my most trying times that I am still going through soon,"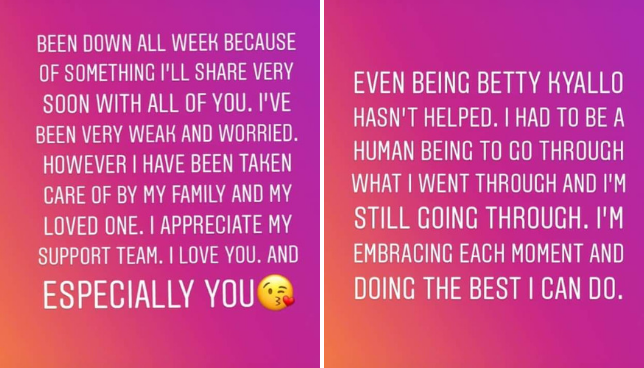 However Betty has made it clear that it is not about her exes.
"And noo it doesn't have to do with exes. There is more to BK than that," she added.