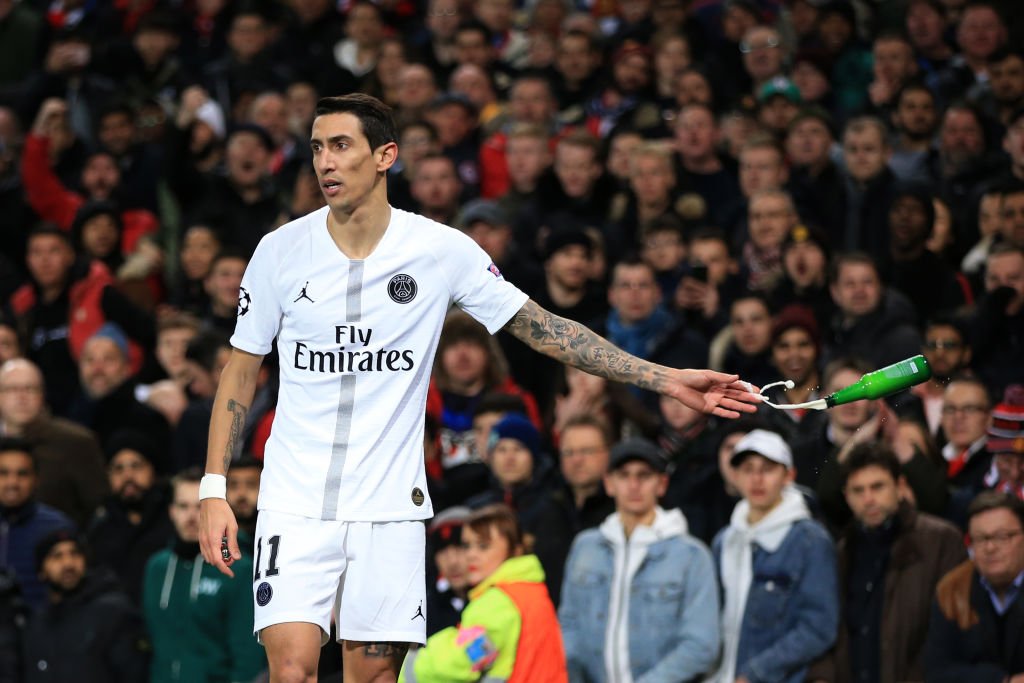 Manchester United have a Herculean task on their shoulders to overcome a 2-0 deficit when they travel to Paris in three weeks' time. The Parisiens emerged victorious after second half goals from Presnel Kimpembe and Kylian Mbappe put Thomas Tuchel's side one foot in the quarter finals.
Angel Di Maria came back to haunt his old employers, laying on both goals, but in a strange turn of events the winger may not be allowed to take to the field to inflict more damage for the second leg.
On celebrating the goal of Kimpembe, who was inexplicably still on the field, Di Maria goaded the United fans and shouted abuse in their direction in rather over zealous celebrations.
angel di maria had YEARS of pent of frustration towards united fans he was just DYING to let out 😂 https://t.co/yUWBT4kQEP

— A West (@oeste) February 12, 2019
He could now be landed with a retrospective UEFA suspension, in accordance with Article 15 of UEFA's regulations, potentially charged with 'provoking supporters', according to 101 Great Goals.
The celebrations played a big part in subsequent action boiling over, with supporters hurling plastic beer and water bottles in Di Maria's direction when he went to be involved in a corner kick at the scoreboard end. Di Maria jokingly mimicked drinking the beer, but the damage had already been done in provoking United's fans.
PSG already retain the same doubts over star strikers Neymar and Edinson Cavani due to injury and it would be a blow to them to lose di Maria, a player who clearly relished getting one over United.
It was an eventful night for the former United flop, after Ashley Young barged him into metal railing on shepherding the ball out of play after the pair tussled by the touchline.
That said, United have the most uphill task to overturn the deficit before the team sheets even hit the referee's desk, with star midfielder Paul Pogba dismissed in the closing stages and injuries to Anthony Martial and Jesse Lingard, who were key players in Solskjaer's game plan.
It was salt rubbed into the wounds that di Maria had a huge influence on the game, but he might not be around for the return game after all.