Chris Brown is now selling merch that clearly alludes to and mocks the woman who accused him of rape earlier this week.
As previously reported, Brown—who was detained alongside a bodyguard and an unnamed friend in Paris earlier this week after a woman accused him of rape—has denied the allegations. In an Instagram caption that has since been removed, Brown called the accusations "false and a whole lot of cap!" The post itself, which has also been deleted, was of the text "THIS B!TCH LYIN."
Brown was ultimately released without charges and is reportedly looking to sue for defamation. The woman's attorney, however, said Thursday that his client was under "great psychological pressure" at the time of the alleged incident. "My client explains that it was non-consensual sex," lawyer Franck Serfati told the Associated Press. "She was not pressured physically."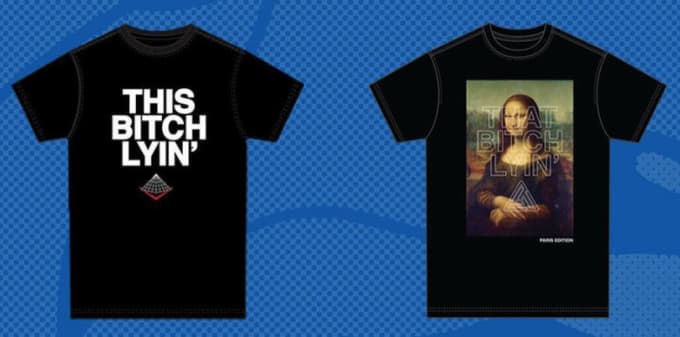 Now, via his Black Pyramid line, Brown is hawking tees with the same "THIS BITCH LYIN" phrase. The "Paris" edition of the tee features the Mona Lisa across the chest. As pointed out on Twitter, versions of the design appear to have been sold by Black Pyramid before. The Paris version, however, is new.
While Meek Mill, Justin Bieber, and a few other artists expressed public support for Brown following this week's rape allegation, others have pointed to his past (including his 2009 physical assault of Rihanna) as a sign that such support isn't warranted. Earlier this month, Sony-owned RCA Records announced a new deal with Brown. RCA, of course, is also the now former home of R. Kelly. An "external announcement" on Kelly's split with Sony and RCA is not expected, per reports.
SOURCE: COMPLEX MUSIC