Inspector General of Police Joseph Boinnet on Monday named the new regional police commanders but explained why North Eastern boss Paul Soi's attire was a bit different.
Speaking during an event in Mombasa, the IG stated that Soi was not cladded in blue due to the surroundings he will be in, appearing to suggest he needs a more camouflaged attire.
​"His uniform is a bit different because of the region he has been deployed to work in," said Boinnet.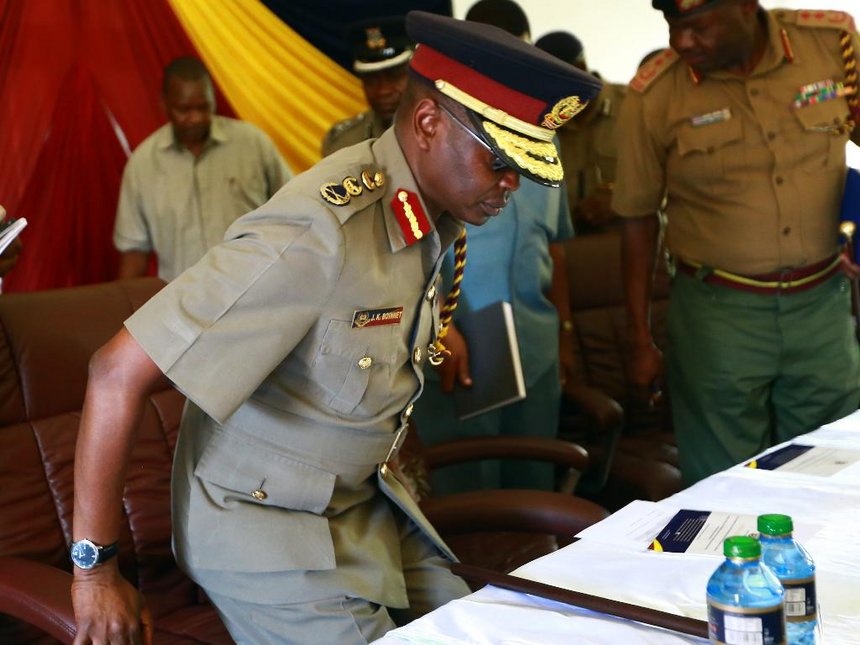 He further commended Eastern Region Police Commander Eunice Kihiko who looked smart in the new uniform.
"Everyone I meet agrees with us that we made the right choice (on the color of the new uniform). I think the naysayers did not get it right from the beginning, it is a good uniform," he reiterated.
Boinnet further joked that Nairobi Police Commander Philip Ndolo's uniform had been taken back to the tailor since the first one failed to fit him.
"Ile alikua amevaa haikumtosha sawa sawa. As you can see anatosha kazi ya Nairobi. (The one he was to don did not fit him. As you can see, he is equal to the enormous task of running security in Nairobi)," he said.
The regional commanders met President Uhuru Kenyatta on Tuesday afternoon in Mombasa and the Head of State maintained that he will fully support them in fighting terrorism.