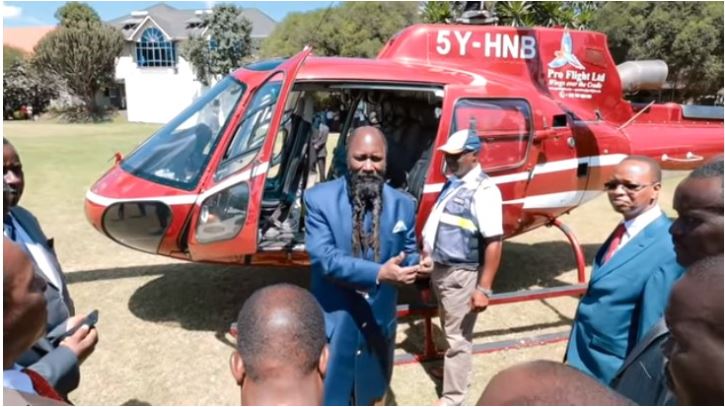 Did you know that posh lifestyles of modern pastors are advertised and plastered all over social media and they make no apologies for living a good life in Christ?
The congregants do not have the privilege of knowing how much their pastors make, but it is easy to estimate based on the hood they stay in, the posh cars they drive, the types of parties they host, what they post on social media, the kind of places they vacation at and the luxurious and posh weddings they hold for their children.
Here is an outline of how these men of God have redefined the calling.
James Nganga
Neno Evangelism Centre was founded in 1992 in Nairobi city.
Nganga was married in 2012 at a lavish wedding where the who is who was present. But in 2015, his estranged wife, Loise Murugi Maina, decided to wash the family's dirty linen in court, accusing the man of God for being an abusive and adulterous drunk, according to court documents.
He is among the top men of God with a huge following, thanks to the 'miracles' he has been seen performing which includes exorcising demons from his members.
He is alleged to be living in Karen and owns a Mercedes and also owns a fleet of cars among other properties like the Sunny Hill Hotel in Naivasha.
Prophet Owuor
The founder of Ministry of Repentance and Holiness Church, Prophet Owuor is among the affluent pastors in Kenya living an exemplary life. He is known for his huge crusades and miracles.
The man of God has a flashy lifestyle unlike most of his followers. He has a collection of high-end fuel-guzzling cars.
Recently, a close source hinted to the star that Prophet Owuor, is building a Ksh 340 million mansion at Runda.
The building that is nearing completion has an underground bunker with state of art security features.
Bishop Allan and Kathy Kiuna
Bishop Allan Kiuna and his wife Reverend Kathy Kiuna run the Jubilee Christian Church in Nairobi with 15 Kenyan branches and five international churches. They are among Kenya's wealthiest pastors.
Kiuna started by leaving in someone's house as they could not afford to pay rent. They abandoned their printing business and concentrated on their ministry.
The Kiunas have grown their wealth over the years and are reported to own top-of-range-vehicles, spend time golfing is some of the exclusive golf courses in Africa and vacation at exotic tourist destinations in the world. Let's not forget their luxury home in the leafy suburbs of Karen.
Father John Mapesa
His Holy Ghost Coptic Church of Africa along Kisumu-Kakamega road is a well-known place.
Within the church compound where he lives in, he hoists the national flags, his church flag amongst others in the compound. Unlike other clerics, he has a high value for his security and one has to always arrange prior before he is visited.
Father Pesa is not new to controversy as he was once accused by a former MP for Kisumu Town East of chaining some mentally ill patients within the church. The MP brought up the issue in Parliament and demanded to know why the clergy was constantly chaining such patients and with whose permission.
According to some of the visitors including journalists who have gone for a media interview with him at his residence within the church compound, one has to undergo through various security checks before accessing him.
The clergy likes to provide cold soft drinks to his visitors and will not allow them to leave without taking the 500ml bottle of Soda.