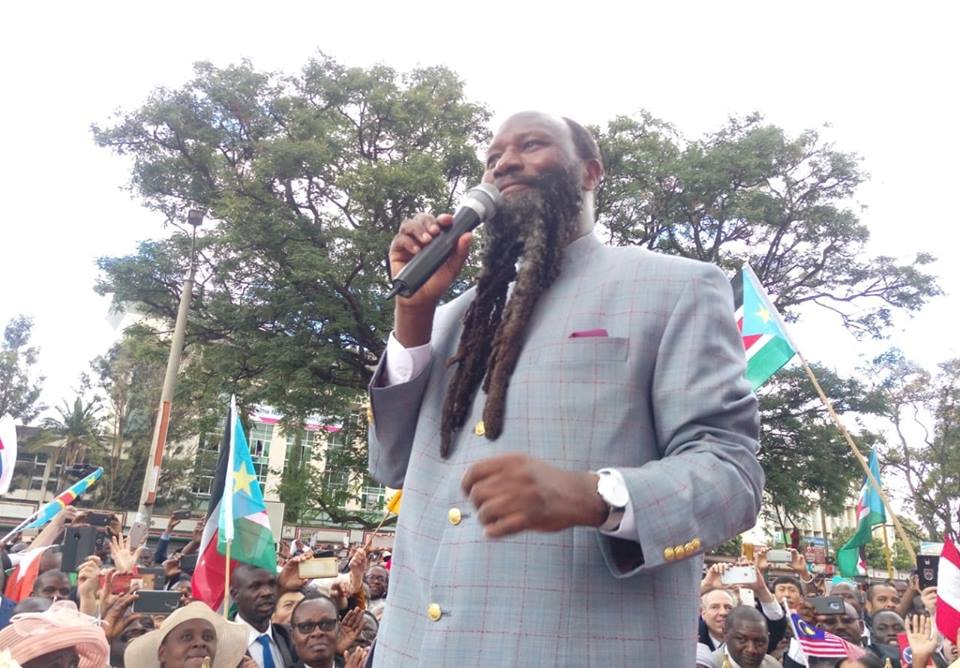 Prophet Owuor's pompous arrival in Nakuru town was captured on video, which shows eight fully-occupied police vehicles with sirens and two motorcycle outriders accompanying the man of God.
A convoy of more than 40 mid and high-end cars also formed part of Prophet Owuor's convoy.
This was not the case before he rose to his current status. He was just a humble preacher with no body guards preaching in the streets of Nakuru.
Video Comparison of 'humble' prophet Owuor on the STREETS of NAKURU in 2004. Desolate, over-sized suits, no cars, no body guards, humble preaching against GOSPEL OF PROSPERITY vs Owuor in 2018 on the STREETS of NAIROBI. Arrived in Range rover and V8 with bodyguards to preach pic.twitter.com/ZClEvPOq9Q

— Lord Abraham Mutai (@ItsMutai) December 28, 2018
The Inspector General of Police Joseph Boinnet has vowed to take action against officers, who assigned over eight police vans to self-proclaimed prophet David Owuor during his triumphant entry into Nakuru County last Friday.
The Conman prophet Dr Owuor just arrived in Nakuru for a two day meeting at Menengai grounds. This is how he is received with state security, high end cars and ululation. He will be spending the night at Merika Hotel while his followers brave the cold outside at Menengai grounds pic.twitter.com/OuuNDd6J7z

— Lord Abraham Mutai (@ItsMutai) December 28, 2018
And now, IG Boinnet says the magisterial display of police protection during Prophet Owuor's arrival in Nakuru was "inappropriate" and smells of "misuse of public resources".
Reminder. Prophet Owuor followers washing the highway with soap for his arrival. Remember the humble man of 2004? He evaporated and got replaced by a cult leader. Powerful than the prophets of Baal. pic.twitter.com/UaevKlM74F

— Lord Abraham Mutai (@ItsMutai) December 28, 2018
"The law allows one to hire police for private functions; however, not to the scale depicted in the [Prophet Owuor] video. I am assuring you that action is being taken. Misuse of public resources is not permitted in law," Mr Boinnet said in a statement seen by Citizen Digital on Saturday.