Should we call it a Triumphant entry to Nakuru? Just like Jesus Christ made a triumphant entry to Jerusalem, the earthly self proclaimed prophet Dr Prophet David Awuor seems to have been trying the same.
The self proclaimed prophet made grand entry to Nakuru for a 3-day conference with a more exaggerated police escort that made the scene look as if it was the President.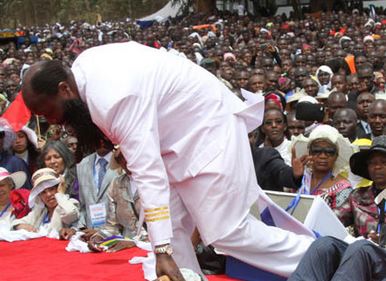 However, the prophet landed two police bosses in problems after Inspector General of police Joseph Boinnet ordered for an immediate probe into the matter after learning that the vehicles had not been assigned.
Two police cars were detained in Nakuru a day after the Inspector General issued a stern warning against misuse of public resources.
Police vehicles impounded: Vehicles caught on camera escorting Owuor. The vehicles belonged to Kabete, Tharaka Nithi bosses

Police: They were not officially assigned #CitizenWeekend pic.twitter.com/Ow6tdesvj0

— Citizen TV Kenya (@citizentvkenya) December 30, 2018
His statement came after a massive convoy of police chase cars were spotted in Prophet David Owuor's convoy to Nakuru.
The law allows Kenyans to hire police services but according to IG Boinett, it should not be to the level depicted by Prophet Owuor.
Boinett has since vowed to take action against any officers found to misusing their vehicles.
Owuor is holding a two day prayer meeting in the outskirts of Nakuru town.
The video of his convoy continue to elicit mixed reactions on social media too. Here is the video of the convoy.