Obado will have to wait till Friday for the court to hear his bail application or consider the prosecution side which claimed that it needs 15 more days to look into the matter.
The prosecution want to carry out full ballistic search to determine if Obado owned the guns legally. Plus they need a record of his phone calls and data.
Cliff Ombeta has claimed the reason by the prosecution requesting time to allow further investigation into the 8 guns found in his homes, both in Nairobi and Migori is malicious and ill-intended.
Migori Governor Okoth Obado's current woes could be politically instigated, his lawyer Cliff Ombeta has claimed.
Governor Obado was dramatically arrested by sleuths at a five-star hotel in Nairobi on Wednesday, a day after it was reported that up to eight guns were recovered in his homes during a search by Ethics and Anti-Corruption officials.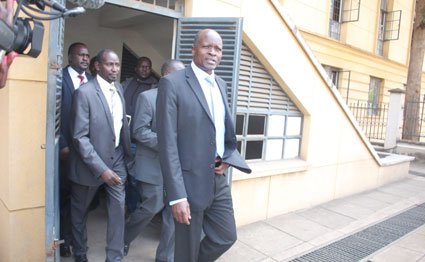 Several bank statements and electronics were also seized during the swoop.
Five of the firearms were recovered at the politician's Nairobi home while the rest were found at his rural home in Migori.
Governor Obado has in the recent past been hosting Deputy President William Ruto in his county.
"My client is now an easy target for those targeting him," claimed Ombeta.
Ombeta also confirmed seven of the eight guns found at Governor Obado's home can be 'accounted for', while the remaining one could have been planted by someone.
"The governor was in Nairobi all this time in relation to Sharon Otieno's case. There is no way he would be able to monitor what goes on in his rural home," said Ombeta.
Governor Obado is facing murder charges in regard to the killing of 27-year old University student Otieno.