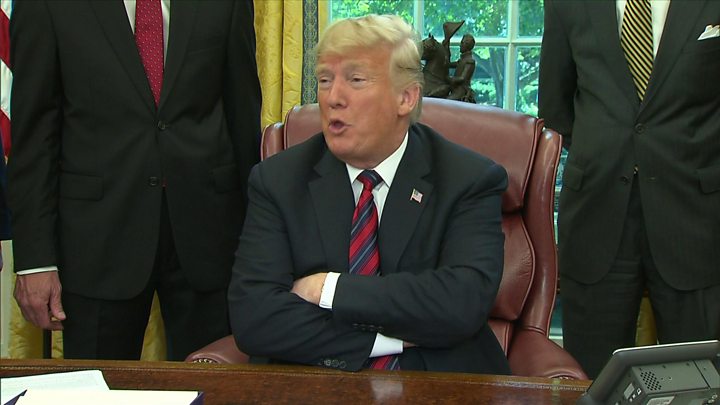 Saudi Arabia has faced backlash over the death, including from its allies, who have called for answers.
President Donald Trump has said he is "not satisfied" with the Saudi account. However, he also said he was unwilling to sacrifice lucrative arms deals with the country.
Turkey has given its first official statement on how it believes writer Jamal Khashoggi was killed, saying he was immediately strangled.
The statement follows weeks of media reports about the murder at the Saudi consulate in Istanbul on 2 October. Turkey has yet to provide evidence.
Chief prosecutor Irfan Fidan said a meeting with his Saudi counterpart on Monday yielded "no concrete results".
Saudi Arabia has not commented on the meeting.
The Turkish statement said: "In accordance with plans made in advance, the victim, Jamal Khashoggi, was choked to death immediately after entering the Consulate General of Saudi Arabia."
His body was then dismembered and destroyed – "again, in line with advance plans", it added.
Khashoggi, a Saudi national working for the US press, was a well-known critic of his home country's rulers. His body has not been found, but Turkey, the US and Saudi Arabia have all agreed that he was killed at the consulate.
There is still no consensus on how he died.
Turkey has steered away from publicly blamed Saudi Arabia for the killing.
However, a senior spokesperson from the ruling AK Party said on Wednesday that it could not have been carried out without orders from someone in a senior position.
Saudi Arabia denies its royal family was involved.
Turkish President Recep Tayyip Erdogan spoke to Saudi King Salman last week, and the two agreed to continue co-operating in the investigation.
Unnamed Turkish officials have previously told media outlets that they had audio and visual evidence to prove their accounts of the writer's death, but nothing has been released.
Turkish media have published details on how sources say Khashoggi was killed, including torture allegations.
His Turkish fiancée, Hatice Cengiz, gave a tearful interview to local television last week, saying she would never have let her partner enter the consulate if she had thought that the "Saudi Arabia authorities would hatch a plot" to kill him.
He had entered the consulate to sort out documents for their marriage.
Attorney General Sheikh Saud al-Mojeb met Mr Fidan twice, visited the consulate and spoke with Turkey's intelligence agency during his visit to Istanbul this week. He flew back to Saudi Arabia on Wednesday without making an official statement.
When news of Khashoggi's disappearance first started to circulate, Saudi Arabia said Khashoggi had walked out of the building alive.
A few weeks later, the Gulf state admitted Khashoggi's killing was premeditated and a result of a "rogue operation". It suggested he had died in a "fist fight