The United States investigation agencies have now trailed their focus on Kenyan judges, prosecutors and law enforcement officers, accused of receiving bribes from drug lord Ibrahim Akasha's family
On Wednesday, the two brothers Baktash and Ibrahim Akasha  pleaded guilty to six counts of drug trafficking and corruption charges before a court in the Southern District of New York.
They were arrested in Mombasa on January 28, 2017, by several armed individuals who identified themselves as Kenyan police.
On January 30, 2017, Ibrahim and Baktash were transferred to the custody of US Drug Enforcement Agency personnel, who flew them to New York.
US prosecutors had earlier charged them with conspiracy to smuggle 98 kilogrammes of heroin into the US.
At the time of the duo's extradition from Kenya, a Mombasa court was hearing a petition on whether they be taken to New York to stand trial.
It has since been revealed that the brothers paid millions of money to a certain Kenyan judge to prevent them from being extradited to the US. The new revelation has irked the wrath of Kenyans who believe that judges are the reason the country is sinking with runaway corruption.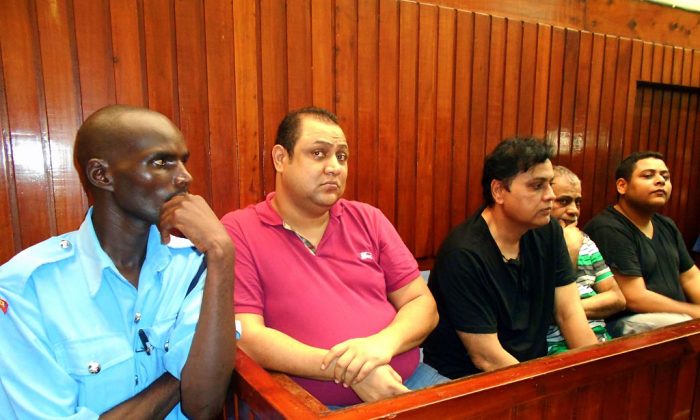 Top on the list of judges the Akashas paid is Judge Chacha Mwita and Judge Judy Chepwony. US Drug Enforcement Agency (DEA) has already opened a file on the judges as well as Akasha lawyer Cliff Ombeta. #AkashaConfessions

— BRAVIN™ (@ItsBravin) October 26, 2018
If We are to have any Justice in Kenya, first and Foremost, We need to clean the Rot that is in the Judiciary. The Akasha Brothers' case is very evident that in Kenya, Justice is bought. We need a System where both the poor and the Rich can be equal before law. #AkashaConfessions

— BRAVIN™ (@ItsBravin) October 26, 2018
The war on drugs was an ideology the government came up with, and there never really was a war on drugs. I mean, to stop the importation of drugs in Kenya is an impossibility#AkashaConfessions pic.twitter.com/8q9A3Ca1gA

— #ElvisNeverGetsMad?????? (@IamElvisMvoi) October 26, 2018
75% of those in the LEGISLATIVE BRANCH (not counting support staff) are lawyers. 99.9999% of those in the JUDICIAL BRANCH are judges. 2 judges and 1 lawyer feature prominently in #AkashaConfessions. Now you know where the rain started beating you.

— #Referendum si tafadhali (@upuzi_wacha) October 26, 2018
Ever wondered why despite all the arrests n evidence against them, the Akasha Brothers always walked free? Through their lawyer Cliff Ombeta, they managed to create a network of corrupt judicial officers who always set them free. The DEA has opened on Ombeta #AkashaConfessions pic.twitter.com/yFTQl2v6sq

— We The People (@WeThePeopleKE1) October 26, 2018