Monica was brutally murdered on September 19 after she arrived from South Sudan. Her body was found in her apartment on September 20. The body, with the throat slit open, was found dumped into a bathtub.
On Tuesday, September 24 morning, police arrested top TV journalist Jacque Maribe's fiancé for the brutal murder of Monica Kimani. Police indicated that the man identified as Joe Irungu is nursing gunshot wounds after shooting himself in the shoulder.
Irungu is believed to have slit the throat of the 28-year-old woman in her Kilimani apartment on Wednesday night with the help of others.
Joe Irungu, the main suspect in Monica Kimani's murder In a statement recorded at Langata Police Station on September 21, Irungu claimed he was shot and injured as he dropped his love at Royal Park Estate in Langata, Nairobi. He told the police that he was shot as he tried to establish why strangers were hanging out at the gate of the residence. His lover noted she drove him to Nairobi West Hospital where he was attended to and left to go home.
Police said they grilled Maribe who said she took the boyfriend to the hospital after being shot. Someone believes that Jacque Maribe should be arreated, too.
Here are their speculations: 
Several questions, however, arise on the character of Jacque Maribe and what she knows in the murder.
For example, the incident of her boyfriend being shot by gunmen after dropping her was not broadcast anywhere. How?
Maribe is a journalist. She enjoys massive following on social media. Has contacts within the police and is a news reader.
Why didn't we hear of this incident anywhere on TV, social media or even from her neigbours at Lang'ata.
We came to learn that her boyfriend was shot at only after police acted.
The sultry news girl cannot fool us on this!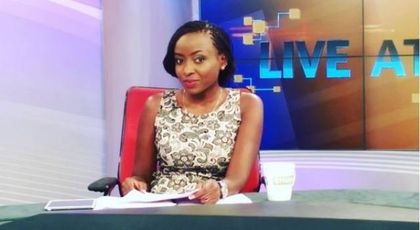 You see, we have been here with our TV girls and we know how they behave, don't you think her lover being attacked by gunmen would have been a major news item on our screens?
Also, now that her lover had dropped her in the house and went back to the gate to check about the 'strangers' at the gate, did she hear any gunshots?
As a journalist, trained on connecting dots to a story, does she think her boyfriend's story adds up?
Why wouldn't she see it was a smokescreen and tell police something?
Detectives should pounce at her and put her behind bars to shed more light on what she knows!
We still cannot say who is the real murderer, it's really a sad case. However Jacque Maribe is an attractive woman, we may have a look at the men she has dated.
Top on the list are renowned blogger and ex-State House digital and social media personality Dennis Itumbi, Comedians Eric Omondi, David The Student and journalist Oliver Mathenge.
Itumbi and Jackie were so tight and photos of them together in a number of occasions led many into believing they were an item.
It was also rumoured the lass went out with Eric Omondi who was even suspected to be her baby's father, although the two vehemently denied in separate interviews.
Comedian David The student is also among men said to have eaten from Maribe's cookie jar.
Another one on the list if Star journalist Oliver Mathenge although unlike the aforementioned, news of his relationship with Maribe was not in public domain.
TUKO.co.ke cannot point out which time Maribe dated each man but judging with history, there was something going on between her and the aforementioned men at one given time or another.
Makes me wonder, is Mike Sonko next?