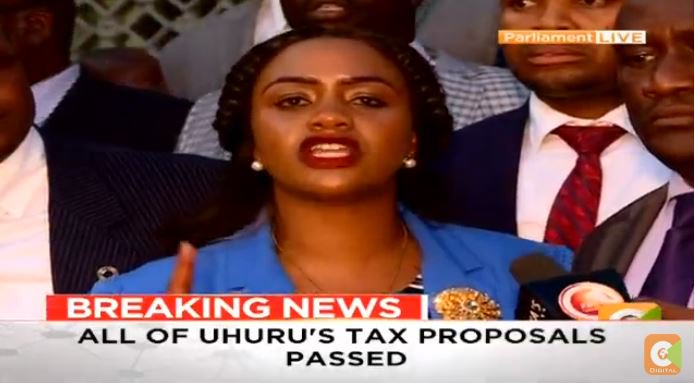 Members of Parliament who are against the controversial 8% increase on Petroleum Products have vowed to go court to protest against the decision to implement President Uhuru's proposals.
The  voting was characterized by high voltage drama after  MPs opposing the fuel levy failed to raise the required quorum of 233 members to shoot down the proposed tax measures.
Ruaraka MP TJ Kajwang accused National Assembly Majority Leader Aden Duale of leading a section of MPs  in walking to frustrate attempts to veto President Kenyatta's tax proposal.
But now the MPs led by Laikipia women rep Allan Waruguru have vowed to go to court to ensure the proposals are not effected.
"As a Jubilee legislator I have been firmly supporting zero taxation on fuel. In  this case we will proceed to the court and to whatever measures we need to take to defend the action of Kenyans." Waruguru told the media.
Waruguru also accused some Members of intimidation."You know whoever did not show up to the occasion and it is very clear the legislators who refused to support the agenda. Fuel levy tax is affecting everybody."