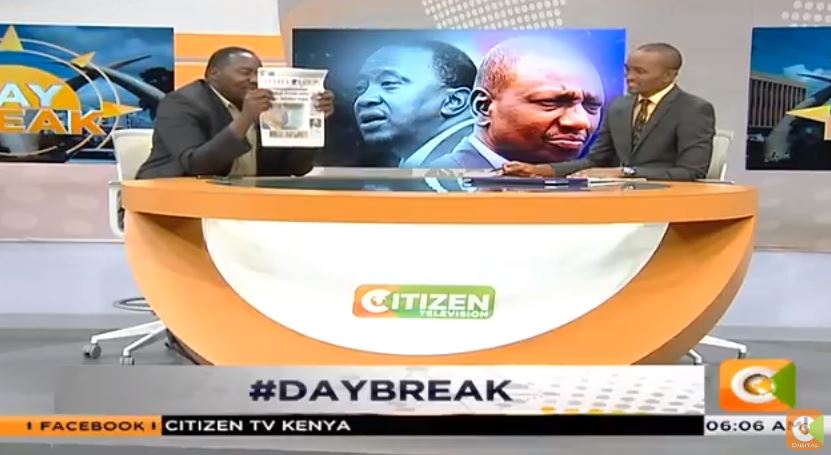 A section of top Kenyan journalists has taken a swipe at Citizen TV over calling an unqualified panellist during their daybreak show on Tuesday, March 17.
Taking to social media, the journalists called out the media house for request Zachary Kinuthia a Chief Administrative Secretary (CAS) in the Ministry of Education to give his opinion on the coronavirus.
The journalists were unhappy in a series of tweets requesting that the media house allow medics to provide guidance rather giving people with fancy suits to come on television.
Assuming many Kenyans are now working at the comfort of their houses, it would be wrong for the media houses to just air things for the sake because the audience who are the receivers of this information is bigger than before.
One @James Smart pointed out that it was now time to get rid of those empty suits on television as the coronavirus issue was cannot be compared with a political contest.
Time to get rid of EMPTY SUITS on TELEVISION shows and allow MEDICS to provide guidance. This is not a political contest. https://t.co/IzYAFLItz8

— James Smart (@jamessmat) March 17, 2020
Another user @davemutegi joined in saying "Empty Suits" should quarantine themselves at home and leave medics to give directions on how to manage this menace.
Other Kenyans joined in the conversation stating that the media needs to allow professionals to handle the coronavirus issue. Not everyone who has an opinion needs to be granted access.
As the media, we need to allow professionals handle this issue.
Not everyone who has an opinion needs to be granted access. https://t.co/O4VX90jLjE

— Oliver Mathenge (@OliverMathenge) March 17, 2020
This move, however, was misunderstood as Kinuthia had been addressing how schools have started sending learners home after government's directive and a question was redirected to him about the virus, forcing him to give his opinion.
Kenyans on twitter quickly rushed to give their two cents on the matter and here are some reactions:
He clearly said he's not a doctor, why is he on the show?🤐🤐🤐🤐

— ikingi mbae (@ikingimbae) March 17, 2020
This young man Zack needs to realise too much noise is not the evidence of performance🖕🏿.

— kiplagat Ng'eno. (@fast_kale) March 17, 2020
And, this is how the media is becoming a conduit for false information and causing mass hysteria. How hard is it to find virologists and other health practitioners who can address the issues from a point of knowledge not heresy?

— David Ng'ang'a (@dewkenzz) March 17, 2020
Every body becomes a professional overnight over everything. Sasa wameashana na BBI and are all over Corona pandemic

— David Ndirangu (@ndirangu7) March 17, 2020