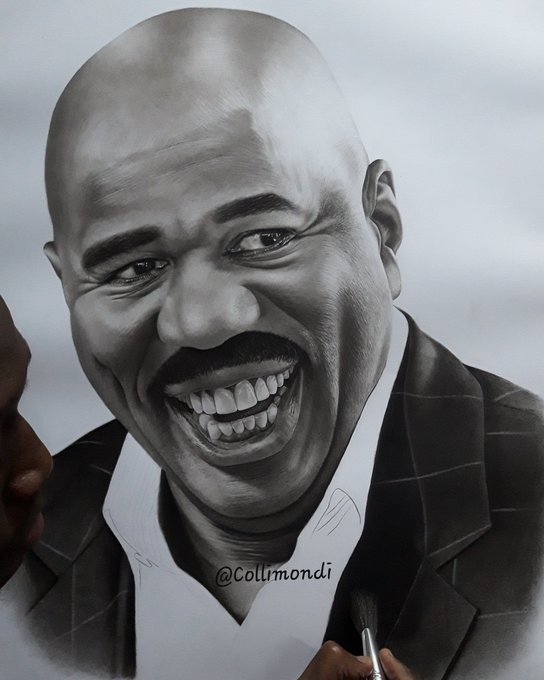 Collins Omondi Okello, a Kenyan artist, captured American comedian and TV host Steve Harvey's attention after he shared a drawing portrait of him requesting his followers to help him reach Harvey.
Luckily, Harvey responded to Omondi's tweet and promised to meet him since he will be visiting Africa.
"Now I'm looking for you it would be my honor to have this …. what size is it and I'll be in Joburgh and Botswana soon let's hook up then," he said.
Pencil drawing in progress of @IAmSteveHarvey by me, with love from Kenya. Help me tag him so he can see it. #steveharveypencil #JaduongArtWorks pic.twitter.com/MRxql0pbKh

— Collins Omondi Okello (@collimondi) February 28, 2020
Omondi took that opportunity to market his country Kenya, as he went ahead to invite Harvey into the country.
"I am actually in Nairobi, Kenya not so far from Jo'Burg or Botswana. If possible, I would be proud to invite you over to Kenya for a Safari to experience Magical Kenya as I present this portrait! How do I reach you?" he said.
His response also captured Kenyans attention as they went ahead to congratulate him for taking such an opportunity to market his country something which not so many people would do.
Collins marketing the country too pic.twitter.com/ozmsUpnfOM

— cherotich kimeto (@cherotichkim) March 2, 2020
Omosh flying the kenyan flag so high and marketing this country than uhuru and his entire "kafament" combined.

— Fredrick Nzomo (@freddyholysan) March 2, 2020
Great. You're inviting Steve to Kenya and the government gonna kidnap him from you the moment he lands. We won't allow that. We will politely ask the President to stay away from his entourage.

— Nkosinathi-Buthelezi, Dawoody🇰🇪 (@kenyanzulu) March 2, 2020
😂😂😂😂 this is so true. I will be present to block uhuru from steves entourage as well. He can't harvest where he didn't plant 😂

— Fredrick Nzomo (@freddyholysan) March 2, 2020
Mans doing more than the government agencies mandated with this singlehandedly.

Great human Omondi.

— Kyalo. (@Livie_Kyallo) March 2, 2020
Marketing kenya more than the minister for tourism @tunajibu ..you deserve to be in that office pal👋👏

— _lordennis🇰🇪 (@W_Dennis001) March 2, 2020
Someone from @magicalkenya team to hook these two up… Don't sleep on open opportunities…

— The Last Don (@domosh77) March 2, 2020
Mans ameambia Steve kama unadai mali safi kujia.. He has done the country a favour of marketing than the government has done in 2 terms 😂😂😂 free of charge 👊👊

— KenduiwaKE™🇰🇪 (@kenduiwaKE) March 2, 2020