Manchester United will travel for their Premier League clash against Everton at Goodison Park.
United are in their best form, coming from a 5-0 victory over Club Brugge in the Europe League, a few days after hammering Watford 3-0 in the Premier League.
Everton, on their side, are facing a torrid time and this season could not be one of their best. The Toffeemen are 11th on the log with 36 points, five away from fifth-placed United.
And as they face each other again this Sunday, United have painful memories concerning last season's encounter where they were thrashed 4-0 at the same field.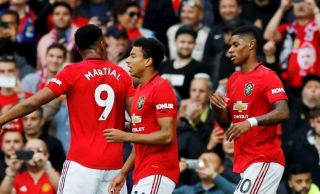 Some of the players who were part of the humiliation are not with the squad. We'll take a close look at players who've found it rough since then.
Of the starters at Everton on Easter Sunday last year, only Romelu Lukaku has permanently left United, while Chris Smalling is at Roma on a season-long loan. Phil Jones and Diogo Dalot failed to make the matchday squad in the 5-0 Europa League thrashing of Club Brugge on Thursday night and Paul Pogba is still sidelined with an ankle injury, but wants to leave.
Lukaku recently declared he had informed the club he wanted to leave at the end of 2018/19 season, but the club was kind of struggling to retain him.
Ole Gunnar Solskjaer also recounted on the experience and stated his morale was a bit shaken.
"That was the lowest I've been," Solskjaer said. "I think you all know that and remember that. That was a capitulation. We had absolutely nothing about us, even though their goals were more or less counter-attacks from set-plays and long throw-ins. Everything you didn't want to see you saw in that game.
"That was the day, the lowest. I knew probably before then but one or two had their last chance, more or less, but we had to get to the summer first. I'm not going to talk about Rom now. He's done well in Italy and we've coped well without him.
"I can, with hand on heart, 100 per cent say these boys will never give in and never give up like that team did. These are the boys we want to build the next team around.
"Against Everton at home [in December], they're hard to play against with two up front. They put players in the box and we knew what we were up against. I'm 100 per cent sure we'll put a better performance up."
The Red Devils will be heading to the match with new signings Bruno Fernandes, Odion Ighalo, Aaron Wan-Bissaka, Daniel James and Harry Maguire.