Manchester United star Jesse Lingard was once a fans' favourite!
But that love seems to have grown frosty in the recent past with United fans always ready to criticize even the slightest mistake done by the English player.
And Lingard appears to have angered a section of fans for perhaps being a bit funny on the training pitch ahead of their Europa League clash against Club Brugge on Thursday.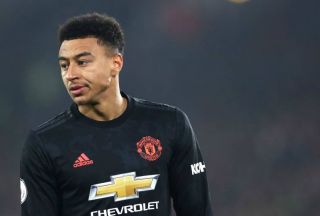 In a viral video, the 27-year-old has been seen dancing around the ball and doing a handstand alongside teammate Andreas Perreira.
Maybe, according to fans, players should be serious all the time during training to avoid any excuse in case of a defeat.
Notably, Lingard's 'sins' are more conspicuous owing to his recent form that has declined to a greater extent.
Take a look at the video of Lingard in training;
Lingard training hard ahead of tomorrow's Europa League game. pic.twitter.com/2I45rlhamN

— Football Hub (@FootbalIhub) February 26, 2020
Jesse Lingard working hard in Man Utd training 👀#MUFC pic.twitter.com/007jNc6WlQ

— GiveMeSport Football (@GMS__Football) February 26, 2020
Check out how United fans reacted to the video;
Complete waste….

— Andy Watson (@_AndyWatson) February 27, 2020
— Daniel Irvine©️ (@danirvine7) February 26, 2020
And he wonders why everyone thinks he's a dickhead.

— Kevin the Gooner (@kevinlowther1) February 26, 2020
How this guy was getting in the team still surprises me I'm baffled pic.twitter.com/rX3vlCQRak

— robert_95th (@robert_95th) February 26, 2020
Im sorry but this would be ok if he was on good form. But my guy is messing about when hes on the worst form a player could have.

Its actually horrible to watch https://t.co/9UL97IE5TZ

— Jake (@MG26szn) February 26, 2020
In this season, Lingard has played 9 matches (plus 11 as a sub). He has 5 shots on target from a total of 11 shots and has scored 0 goals. His passes average to 19 per match with a pass completion rate of 87%, and has 1 assist.
As an attacking midfielder, the Brit needs to get his career back on track!