Senator Isaac Mwaura has visited the late Kahawa Wendani MCA's family. Politician Cyrus Omondi famously known as gearbox passed on in India where he was mysteriously found dead inside a hotel.
Omondi was in Mulund  for a workshop alongside his colleagues of the Education committee. On February 11, he had returned to Hotel Trimurti where he was staying.
On the evening of February 12, one of his colleagues went to his room and informed hotel officials to open the door and found him lying unresponsive.
He was rushed to MT Agarwal Hospital where he was declared dead by doctors. Mulund cops have registered an accidental death report (ADR) in connection with incident.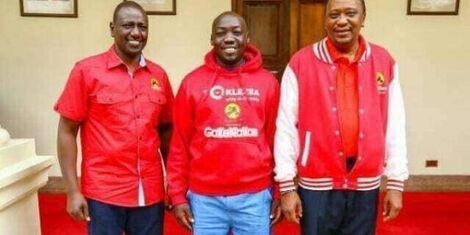 Questions have been raised with suspicions that Cyrus was murdered by his enemies. Although claims from unverified sources have stated that he died due to a heart attack, family members have asserted that he was in perfect health condition before traveling .
"…Tumehuzunishwa sana kwasababu ya hili jambo ambalo limetokea hapa kwetu katika mtaa wa Kahawa Wendani. Tuna huzuni ambayo haiewezi kaelezeka,tuna uchungu mwingi sana kwasababu ya kumpoteza ndugu yetu Cyrus Omondi,hakuwa ameumiamahali. Aliandamana na committee yake ya education ambayo imekua ikifanya kazi tulikua tunashirikiana na yeye, tunauliza, ni nani alikua na Cyro mwisho ndio apatikane ameuwawa katika hoteli?…..," said Isaac.
("…We are saddened by this incident that has hit Kahawa Wendani. We are filled with so much doom. We are hurting over the lossof Cyrus Omondi, he had no injuries. He followed the committee education which has been doing a good work, we have even collaborated with him. We are asking who was with Cyrus when he was found murdered in a hotel….)
The lawmaker's younger brother Kevin Ochieng on his part told the media,"We want to send a family representative to India so that a postmortem can be done. If that is not the case, we want the body to be ferried to Kenya and the postmortem conducted here.
"My brother was very healthy and had never complained of a heart problem so we suspect that there might be foul play," Kevin stated.