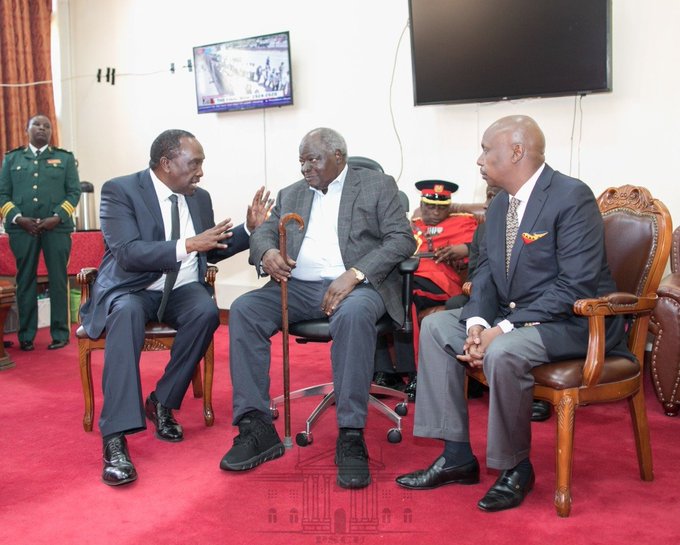 Former President Mwai Kibaki has excited Kenyans after he stepped out in black expensive sneakers. The former head of state had today visited Parliament to view the body of the late former President Moi. In spite of the somber mood, something else that caught the attention of Kenyans is how Kibaki was dressed.
Beyond his smart casual clothes, his shoe game earned him countless compliments from Kenyans. The shoes bear a striking resemblance with nike kicks with an estimated cost of € 49.95.
Social media users also noticed that he was sitting on an office chair which was different from the other chairs that others were using. Some are convinced that it is because of his old age that he needs to be more comfortable.
Check out some of the reactions
Prisca Aroko(Shante)  in @ArokoPrisca
Kibaki's shoes .I wonder what was going through his mind while viewing Moi's body.
Backspace@kemoi08Kibaki shoe game
Kimathi Felix @KimathiFelixLKibaki Shoe game
frankline Robin@FranklineRobin
Kibaki's shoe game on another level meehn
Toonhood@toonhood"President Mwai Kibaki" Shoe game umeweza…sasa tupeleke na rieng'
Kariuki Thairu@TheLord_Boltondo not mess with Kibaki's shoe game
Char-lee Oddie@CharleeOddie1Look at former President Mwai Kibaki shoe game, fantastic.