A number of Kenyans online have vented their anger against the judiciary after a Naivasha court acquitted nine suspects who had been charged with causing the death of 47 people during the dam tragedy at the Patel farm in Solai, Nakuru County in May 2018.
While making his ruling, Chief Magistrate Kennedy Bidali cited "lack of willingness and support" from the Director of Public Prosecution's office in prosecuting the case to acquit the nine who include the owner of the farm, Perry Mansukh Kansagara.
"It appears to the court that a case is not made out against the accused person sufficiently to require him to make a defence, the court shall dismiss the case and shall forthwith acquit him," Bidali ruled.
COURT acquits nine suspects over Solai dam tragedy for lack of witnesses. pic.twitter.com/IWPzhJQfU5

— The Star Breaking (@TheStarBreaking) February 3, 2020
Others included farm's General Manager Vinoj Jaya Kumar, Nakuru County Water Director Johnson Kamau Njuguna, Water Resources Authority and National Environment Management Authority officers Luka Kipyegen, Winnie Muthoni, Jacinta Were, Tomkin Odo Odhiambo, Willie Omondi and Lynette Cheruiyot.
Haji, who expressed his displeasure over the court's decision, denied that prosecutors from his office failed to turn up in court for the case hearing and said that his office will appeal the ruling.
"To use the fact that one of the prosecutors wasn't there is not enough to acquit. Our records show very well that the application has not been fully heard because some of the interested parties in the case have not presented their case. We are puzzled. We've been struggling to move this case from Naivasha to Nairobi after allegations that some witnesses have been compromised. We've been very restrained but this is not tenable," he said.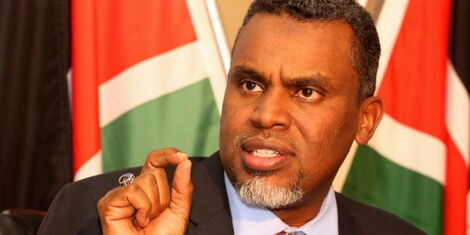 In December 2019, the victims and suspects had both complained about the delayed trial, saying it was yet to begin 18 months later.
The hearing had been adjourned for several reasons, leaving victims with little hope that the matter will be concluded.
The senators had also questioned the whereabouts of Sh1 billion that the government released for the affected families through the Red Cross, but the money did not get to the beneficiaries.
The dam collapsed on May 9 2018 and left hundreds of families displaced when waters swept away their property.
Senate's Justice and Legal Affairs committee had also accused the DPP, Interior CS Fred Matiang'i and other State agencies of ignoring a report by an ad hoc committee that was chaired by Makueni Senator Mutula Kilonzo Jnr.
The senators accused government agencies of handling the matter in a casual manner.
"There is a general reluctance and attitude and lack of goodwill by government agencies and they must be condemned in no uncertain terms for abdicating their roles," Nandi Senator Samson Cherargei said then.
The move to acquit the suspects over lack of evidence has left many Kenyans angered on the justice system.
Magistrates in Kenya seem to be excited undermining the Director of Public Prosecutions. We can't win the war against Corruption & Impunity if some Magistrates keep giving orders against DPP & Public Interest . Such Orders can only be corruptly given as they have no Legal Basis.

— Donald B Kipkorir (@DonaldBKipkorir) February 3, 2020
The rich people suspected of killing Kenyans in the Solai dam case have been acquitted of manslaughter charges after the prosecution (@ODPP_KE ) failed to appear in court on several occasions.

Close to 50 poor Kenyans were killed but ODPP prosecutors NEVER appeared in COURT.

— Robert Alai (@RobertAlai) February 3, 2020
"The chief of Solai was compromised to do three lists and put his friends, this man is still in office…that what happens to people who don't matter"

Dear, Senator @SenMutula – don't let this matter rest. You started the Lord's work, He will help you see it through to the end. pic.twitter.com/cg43zJ3PYg

— Gabriel Oguda (@gabrieloguda) February 3, 2020
Solai dam tragedy wasn't an accident but people act like it was.
Everyday we wake up to such stories of the poor not getting justice but God in heaven is watching…
One day the poor will have their justice wether in this life or the next! pic.twitter.com/Me0fQ5gYpR

— RickyMozzart🇰🇪 (@pinngponng) February 3, 2020
Solai killers have been released because public prosectution office is incompetent. Somehow, we still believe @ODPP_KE will prosecute corruption successfully.

— Maina P Kiromo (@mpkiromo) February 3, 2020
Its so unfortunate that the souls of solai dam tragedy victims will not rest in peace after ODDP failed to produce witnesses to testify against the perpetrators of their death. pic.twitter.com/AfqR0eJHGD

— UMOJA FINEST (@dawn_ochieng) February 3, 2020