Ktn host Tony Gachoka has revealed that if Elgeyo senator Murkomen Kipchumba was the one running for President and not the Deputy President William Ruto, he would see Murkomen as a leader who is a fighter and resilient.
Gachoka thus advised Jubilee party should change their strategy and stand with Murkomen for president.
This followed the senators brave war in challenging the swearing in of Deputy Governor James Nyoro after impeachment of Kiambu governor Ferdinand Waititu, stating that it was a violation of the law, which led to an online argument with fellow lawyer Mutula Jr Kilonzo.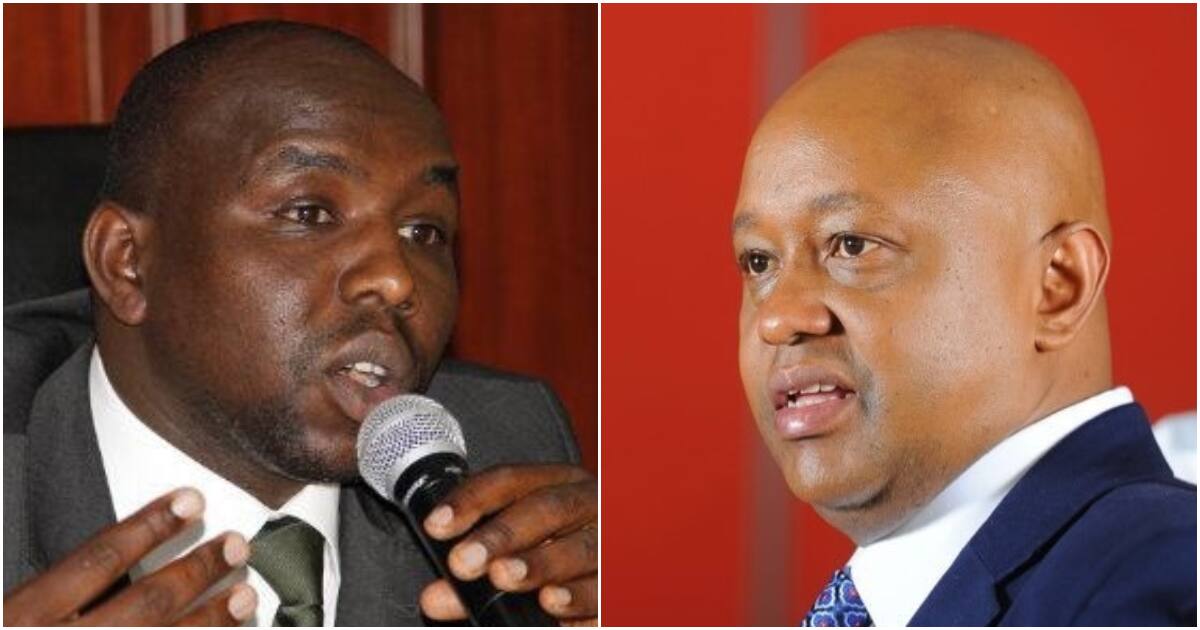 Many have agreed with Tony quoting Murkomen's brevity as majority of their reasons;
"He is brave and articulate at least today he said earlier Nyoro sweating in was against the law and it happened reggae stopped not like TG who has turned journalism to be a boot licking platform Zombie"-Eru Festus.
"Personally i always admires brevity and tactics within kipchumba Murkomen,,but ones he is with his people he is a different one,, maybe he should figure out ,,join national politics he stands a chance,,,but ruto is A No"-Nyadimo Edy.
"Yeah sure I'll easily and willingly vote Murkomen in rather than that other crap. Murkomen is wise, doesn't insult each time he holds the mic. Uyo mshenzi mwengine mdomo imejaa matusi ya mganga etc."-Edu.
"Secondly, Murkomen has not been accused of too many scandals save for the NYSSCAM where hundreds of millions were washed through his Client's Account at a commission He is a Good Guy though."-The wall.
"for president,,i will wake up and vote for him but not for WSR."-Richie Maviv.
Same here. I would vote for @Kipmurkomen. He has a promising future ahead. I hope he just keeps away from the propaganda team."-Adams Sang'alo.
However others felt he was no match for the DP;
"I don't support Arap Mashamba or the Handshake Conman, but it is misguided to compare Ruto with Murkomen… my fren, Ruto ni moto ya kuotea mbali."-Patrizio Medici.
"Mtu wa mkono ya Baba…Elgeyo-Marakwet Governorship awaits him,Enda upange nyumbani kwanza."-Silas Kiai.
"Ruto is so prepared for opposition than any body else,Even now he has started rearing white beard to resemble jaramongi during KPU!mambo ni kujipanga my friend!"-Katunga Kingangi.
"but can't we do better than Murkomen, DP or any of the other current washouts?? We should and we Will"-#GetKeWorking.
Murkomen has since responded;
My friend Tony nimekuonea 18 https://t.co/aqDh1ZsRxk
— KIPCHUMBA MURKOMEN, E.G.H (@kipmurkomen) January 30, 2020
The majority leader of the senate was elected Senator for Elgeyo Marakwet County in 2013 on a URP ticket, winning against the late Nicholas Biwott among other veteran politicians. He was easily re-elected in 2017 on a Jubilee ticket, beating former Inspector General of Police David Kimaiyo.
Do you think he stands chance at presidency?