Deputy President William Ruto has cracked ribs around the country after video footage of him talking BBI politics to primary school pupils in Embakasi West constituency surfaced online.
The video which was first shared by ODM party Secretary General Edwin Sifuna has since made rounds all over social media.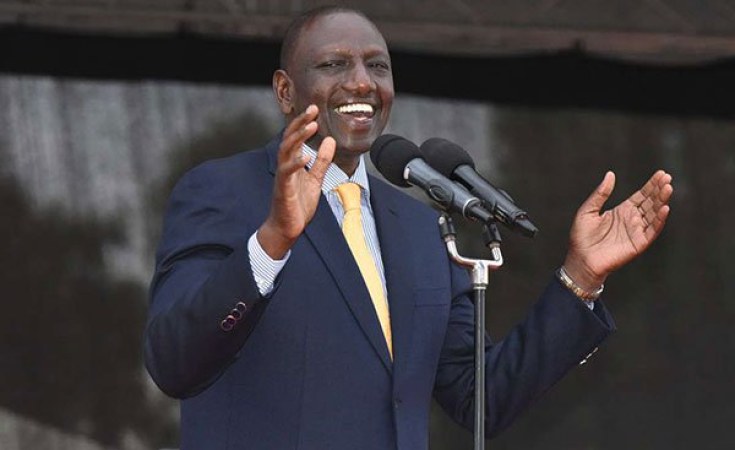 In the video, the politician can be heard telling the pupils that Kenya belongs to everyone.
"This country does not belong to politicians only, it belongs to all of us," he said.
"Ile ya BBI 1 si tulikubali?" he asked. To which the hundreds of pupils chorused "yes!"
The video that has since gone viral has received quite a lot of backlash in the form of sarcastic and hilarious reactions from Kenyans.
Some Kenyans have called his actions desperate while others just can't help but laugh.
Check out the viral video below:
Ruto discussing BBI with primary school kids is the most hilarious video of 2020 😂😂 pic.twitter.com/kDZ3N1NVnj

— Duncan Makori 🇰🇪 (@EngnrDan) January 23, 2020
Check out Kenyans reactions below:
This guy is retarded I swear 😂

— O l w a l 🇰🇪 (@cassidyolwal) January 23, 2020
Hapo nayo alichoma.

— KevinBett®️ (@KevinBett__) January 23, 2020
Jehova Wanyonyi did not resurrect for this! He just died again.

— Nom de Plume (@MissAntre) January 23, 2020
Don't blame the man from sugoi school kids are the ones that can give him the attention he desires

— Wycliffe Odanga (@odangacliff) January 23, 2020
How low can you go Bwana DP.

— Cornelius Machuka (@MachukaCoronel) January 23, 2020
WTF 😅😅😅,huyu msee amelewa na BBI!

— ∆bd¥★ (@a_gallgallo) January 23, 2020
Jamaa amechanganyikiwa

— Feiwest (@mfwest2006) January 23, 2020
The kids thought he's talking about BB-blueband😄😄😄

— obed orora (@obedorora) January 23, 2020
Na anawaita my friends 😅😅😂

— Edward Muhoho (@Edkamu) January 23, 2020
Who is advising our DP for sure🤣🤣🤣, sasa watoto wanajua nini kuhusu kelele bee bee yai

— Bushman™ (@Obi_kenya001) January 23, 2020
Do they even know wat is BBI ka mm mwenyewe sijui nn iyo??😬😬😬😠😠

— MW (@MungehW) January 23, 2020
Wait till he tries to take their playing ground and teargasses them

— Kimg (@Kimg51946235) January 23, 2020
No WORDS TO DESCRIBE THIS desperation. pic.twitter.com/SaY3VC5k3y

— Abdulrahman (@Abdulra94540669) January 23, 2020