For Lucy Wanjera, a teacher at Kamuthe Boarding Primary School in Garissa County, the Monday Al Shabaab attack will go down as the lowest moment of her life.
On the fateful day, around 1 am the teacher and her two months child were in all appearances in their slumber when an incessant noise from the very building that houses them woke them up.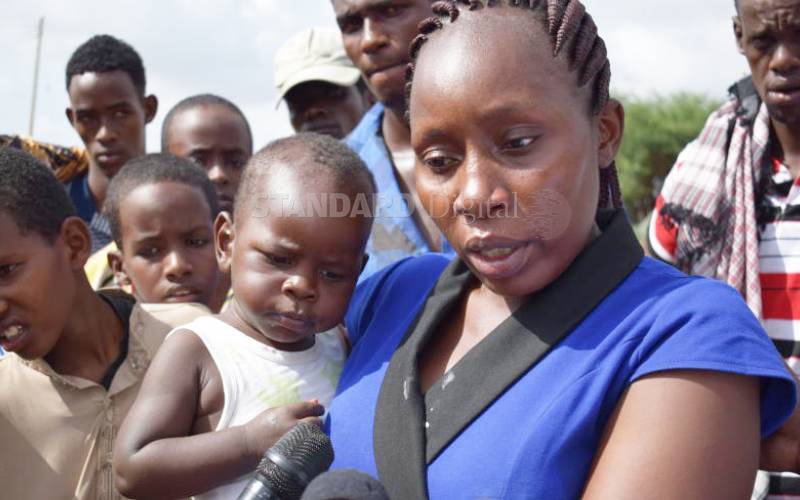 It was an interruption that not only reminded her that something was amiss around them but also her life and that of her child were on the line. The Al Shabaab militia were within.
Torn between fighting for her life or that of her toddler, the motherhood in her could not surrender any.
She quickly opted for what her child, will no doubt in future, narrate as a moment of triumph if at all it will ever come to terms with what could have befallen it on that Monday morning.
Speaking to Citizen TV, Wanjera, between tears, narrated the heart-rending ordeal that pitted them face to face with death.
"It is a very difficult situation. I went under the bed with this child, it was a difficult moment. They never talked to us, we were only hearing them before the door…," narrated Wanjera as tears overcame her.
Her roommate Edna Gideon narrated that the terrorist speaking Swahili and Somali languages were heard directing themselves that everybody was to be left dead.
The heavily armed militants attacked the school killing three non-local teachers and leaving one with serious bullets wounds.
The attack claimed the lives of  Caleb Mutua (28), Titus Mshindi(29) and Samuel Muthie (30).
The Monday attack came in the wake of several terror attacks that have bedevilled the country in the past five weeks.
On 7th December last year, Al Shabaab militia attacked a bus in Wajir County leaving 11 people dead
In the same month on 27th, 3 people were killed after another bus was attacked by the Al Shabaab terrorist in Lamu.
A week later Manda bay airfield in the same county was attacked by the same terror group on Jan 5. Though two of them were shot dead the attack claimed the lives of three US soldiers.
As if that is not enough, six people were killed in Saretho Garissa by the same terror group two days later on January 7.
And in another daring attack, the Al Shabaab militia took the battle at the doorstep of a police post in Mandera but the KDF soldiers acted swiftly and repulsed them.