Is this the same person?
Kenyans have been shocked by a lady on twitter, Bosibori after photos of her without makeup or filters emerged.
Her natural face was captured in one of her photos standing alongside Nairobi women Rep; Esther Passaris which led Kenyans to compare with other photos of her in makeup.
Twitter users trolled her mercilessly after another screenshot surfaced online revealing that she once made fun of Stivo Simple Boy's face.
In the photo shared by Stivo, BosiBori laughed at him because of the foundation he had applied on his face. In response to her comment, Stivo stated that her reaction was quite personal. For this reason, a number of Kenyans agree that she deserves the mockery after how she commented on Stivo's post.
According to a section of Kenyans, the gap between the photos of BosiBori with and without makeup is so major that people would fail to recognize her.
In another screenshot, BosiBori also mentioned that she plans on exposing 'faceless men' and this is another reason why Kenyans are on her case.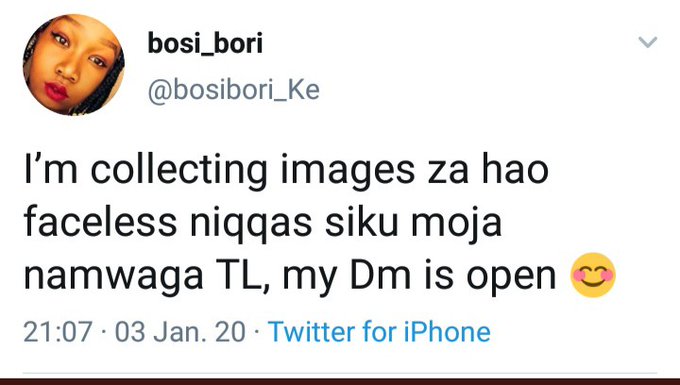 Despite the endless trolls and attacks another section defended the lady on the hashtag #IStandWithBosibori  saying that people mocking her have self-esteem issues and the lady is beautiful both in her natural and enhanced looks.
Bosibori is however not the only lady that has faced public criticism over her looks. Last year, socialite Vera Sidika also made headlines after a photo of her in bad make up was shared by King Kaka. In a recent incident, social media users also made fun of her after unflattering photos leaked.
Here are some of the reactions from Kenyans
#IStandWithBosibori
Uyu Bosibori looks familiar. Anakaa madhe flani hunifulia manguo, can she confirm please, I'll be Dming her from now on for the job pic.twitter.com/LcQn0WY6nS

— ⓐⓛⓛⓐⓝ ⓢⓘⓕⓤⓝⓐ 🇰🇪™ (@Allanpetr) January 10, 2020
For those of you wenye mmestand na @bosibori_Ke when were you when he was making fun of stivo simple boy 👦. She never knew what was coming this 2020….😂 😂 #IStandWithBosibori pic.twitter.com/HJorFSm9yJ

— Kanambo (@_kanambo_II) January 10, 2020
@bosibori_Ke is someone's Daughter, someone's Crush, someone's Dream Lady, Someone's Girlfriend, Someone's wife to Be. Stand strong against Cyber Bullying. You're a woman with no Limits. Keep winning. Please don't suffer in silence. #IStandWithBosibori
Photo Credits 📸 pic.twitter.com/4lu8YFda0c

— Pastor Ng'ang'a🌍🌎🌏 (@ItsPastorNg) January 10, 2020
Hii story ya @bosibori_Ke si fiti walai😢either beautiful or not, white or dark, remember that's the image of God your making fun of 😏
God never makes mistakes #IStandWithBosibori pic.twitter.com/ybsvujYfOP

— Kanambo (@_kanambo_II) January 9, 2020
I keep saying don't believe pictures posted on these streets. You will be shocked in real life . This is @bosibori_Ke 😂😂😂😂😂 https://t.co/iXT2yk0tFi

— Rein (@Asamoh_) January 9, 2020
Huwa mnadhani hawa madem hawadai kutokea dates coz wanaringa but it's cause they don't look like they Dps lmao. Ukimeet Bosibori unamuita brathe

— edanto (@_edanto) January 9, 2020