Kenyans are now calling for the arrest of Mumias East MP Benjamin Washiali for his anti-leadership antics.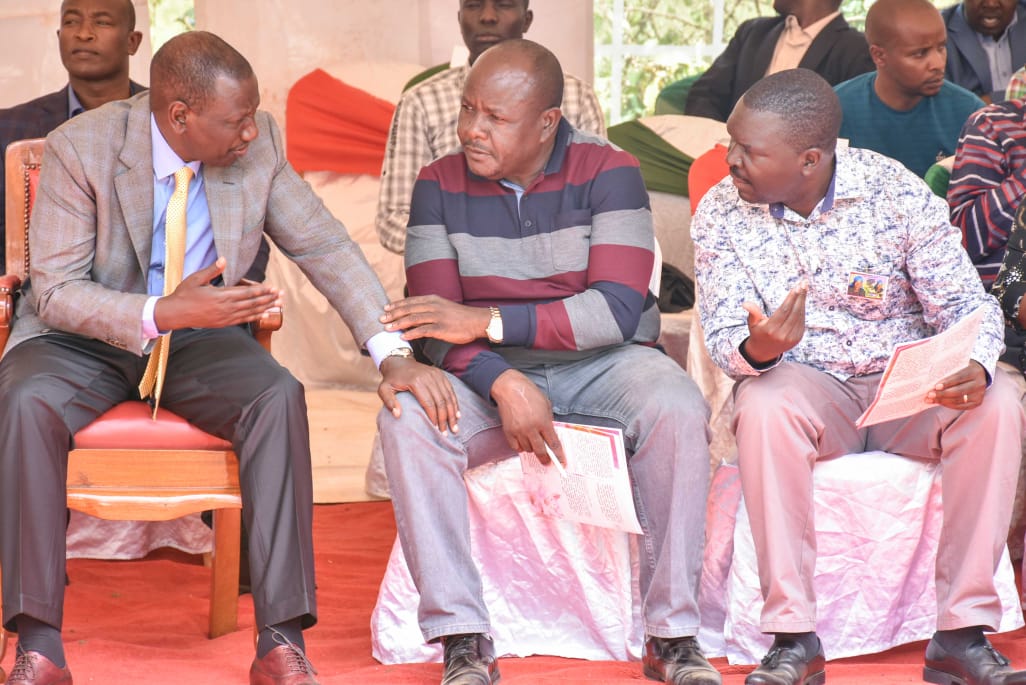 This is after another video emerged with the MP seen assaulting Kakamega Governor Wycliffe Oparanya.
In the 2016 clip, the lawmaker is seen engaging in a fistfight with Oparanya in the presence of Orange Democratic Movement (ODM) party leader Raila Odinga.
I remember this day when Raila was visiting Mumias and Benjamin Washiali harrassed @GovWOparanya almost engaging him in a fist fight! This is a replica of Ruto's arrogance, this is what they will do once in statehouse-EPUKA! pic.twitter.com/6YISFx0c0T

— Amakanji Thomas (@AmakanjiThomas) January 6, 2020
The calls for his arrest have now grown louder after the legislator was seen assaulting an unarmed man, in a clip that circulated widely on Sunday, January 5.
In the clip, the unidentified man is seen being captured by a group of men before the Jubilee MP attacks him with punches and kicks.
The defenceless man is also seen trying to explain himself before Washiali attacks him with a slap across the face.
VIDEO: National Assembly Chief Whip Benjamin Washiali @Benjaminwashia1 violently assaulting villager in Mumias. Details on @citizentvkenya at 9pm pic.twitter.com/UxSFy71zcl

— Linus Kaikai (@LinusKaikai) January 5, 2020
Many are now urging the investigative agencies to take action against Washiali with others calling for his resignation for lack of integrity.
Totally unacceptable! So, the young man is not supposed to have money? When he does, he is physically assaulted and brutalized. Ben Washiali should be PUBLICLY ARRESTED and FROG-MATCHED in shame by members of the public to Kodiaga Prison tomorrow. #RevolutionNow https://t.co/fW1uQewf98

— Dr. Miguna Miguna (@MigunaMiguna) January 5, 2020
Benjamin Njomo Washiali is one politician who uses his body size to think. He sat in his brains many years ago. He thinks being an MP gives him the power to sit on his constituents like he did on this brains. He must be arrested for landing kicks and blows on a poor constituent.

— Philip Etale (@EtalePhilip) January 5, 2020
Whether the clip was taken in 2015 or 2020, National Assembly Majority Whip Benjamin Washiali should relinquish parliamentary leadership for lack of integrity. This is quite appalling and unethical. @DCI_Kenya this guy is a Criminal. Arrest him. Ruto's sycophants, disastrous pic.twitter.com/8xD23xakAx

— Abuga Makori EGH, MBE (@o_abuga) January 5, 2020
Mumias East MP Ben Washiali should be arrested and CHARGED for ASSAULT.

NB: Forget resigning, it doesn't happen in Kenya. Senators will come running to defend him at the Supreme Court. That Chapter Six crap was only a way of making the constitution get thick – yes its thick!

— Murefu (@Kimutu_Kikubwa) January 5, 2020
If washiali is not prosecuted we should also assault politicians who steal public funds mnyonge hana haki we are tired

— akatu phillip (@phillip_akatu) January 6, 2020
Washiali has, however, said the incident happened in 2015 and the man was found siphoning fuel from his tractor.