The government will start the aerial spraying of locusts in Northern Kenya Saturday, January 4.
Government's spokesman Cyrus Oguna has said the government has acquired 3000litres of chemical for spraying the locusts in the affected counties; Wajir, Marsabit, Mandera.
He has assured the safety of the chemical saying it has been tested and authorized.
GOVT STARTS aerial spraying to contain locusts in northern Kenya; 3,000 litres of chemicals to be used, Spokesman Oguna says. pic.twitter.com/4EgLoGjZ4U

— NationBreakingNews (@NationBreaking) January 4, 2020
Distribution of hand-held sprayers together with protective gears have also been dispatched to areas of Marsabit, Wajir and Isiolo that have been affected by the locusts.
The government spokesman said they have been undertaking monitoring and surveillance from November 2019.
"As Government, we have been closely monitoring the situation. However, the locust swarms started crossing the border into Kenya through El Wak on 28th Dec 2019 & have since moved to some Counties in the Northern part of the country," said Oguna.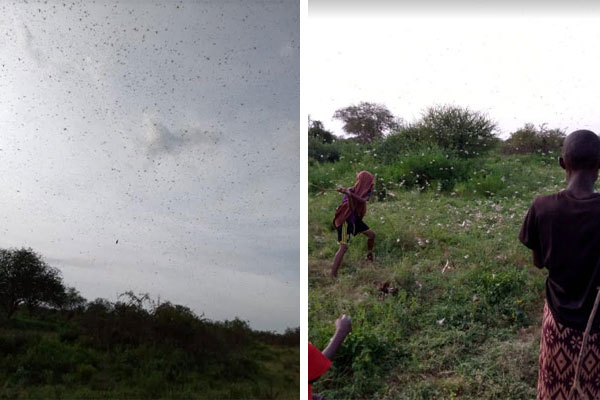 Earlier this week, residents of Wajir County had resorted to desperate measures to deal with the invasion in the area as they awaited the government's intervention.
Police officers were also seen firing bullets in the air to scare away the swarms of locusts that are threatening to wipe out all vegetation in the area.
Locusts menace ! pic.twitter.com/G6MqF4nB0z

— Bernadette Mbugwa (@BernadetteMbug1) January 4, 2020
At the same time, local residents were captured shouting, clapping, whistling and striking metal objects hoping the destructive pests will fly away.
This is Marsabit County the locusts invasion is real.A very small part of an average swarm eats the same amount of food in one day as about 10 elephants or 25 camels or 2500 people! This will be disastrous for pastoralists GOK should raise alarm immediately@FAOKenya @InteriorKE pic.twitter.com/S1NPFpZdoD

— 𝓨𝓾𝓼𝓼𝓾𝓯 𝓘𝓫𝓻𝓪𝓱𝓲𝓶™ (@YussufIbra) January 3, 2020
National Assembly Leader of Majority Aden Duale accused Agriculture Cabinet Secretary Mwangi Kiunjuri of inaction as the swarms of desert locusts caused untold destruction to vegetation.
"This is a serious crisis that must be addressed urgently. Mr Kiunjuri and his principal secretary should not continue to be on holiday as the people in North Eastern suffer. So far the two have not spoken, they have not done anything to write home about," Duale said.