Makerere University will on Saturday, 21st December 2019 host Deputy President William Ruto as Chief Guest at the ceremony to lay the foundation stone for the William S. Ruto Institute of African Studies.
According to a statement by Makerere University, the learning institution has been requested by Uganda President Yoweri Museveni and some of the goals of the institute include drawing on the core strengths of diversity of disciplines and experience to develop and refine methodologies for the study of Africa.
The institute also aims at developing innovative approaches to teaching and learning about Africa, collaborate with similar Institutes in Africa and globally to deepen the understanding of Africa in all its complexity and evolve common perspectives on global issues and strengthen relationships between academic and indigenous intellectuals as the basis for reclaiming indigenous knowledge and integrate this into local communities.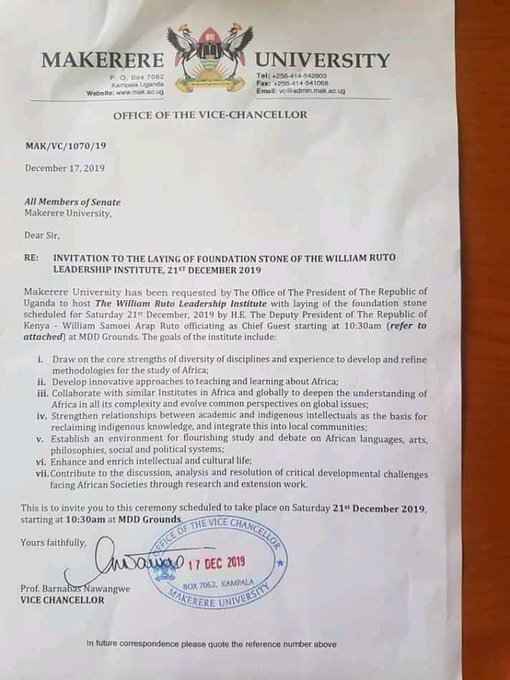 Reports indicate that the DP has confirmed attendance.
The good news to Kenya's second in command, who is also celebrating his 53rd birthday today, have been met with some hilarious and mixed reactions from a section of Kenyans. We have sampled some of them for you.
.@MakerereU University was the best Regional Uni some Decades Back.

It made a decision to take a downward Academic Spiral which can be confirmed by this circular.

Inviting a Man like William Ruto with Theft Credentials & whose PHD is questionable?@Disembe #HonJeremiahKioni pic.twitter.com/QpddLDyNai

— The-WALL (@OneJacobKelly) December 21, 2019
Handshake supporters, come slowly please. Najua inauma but inabidi mzoee. Hapa ni Makerere University na jina ni moja tu, la William Ruto. Hakuna Raila ama Uhuru. Congratulations his Excellency pic.twitter.com/62cjxpzgzK

— Eric Kobia (@RoyalRiqs) December 21, 2019
Wivu ni ya nini?the efforts of having a EAC is here, one step at a time. Congratulations your Excellency Dr. William Ruto and Happy birthday DP. #MakerereCorruptionInstitute

— Edward K. Kiptoo (@marirace) December 21, 2019
What a blessed man.
2018, he celebrated his birthday while graduating for his PhD.
2019, he celebrates his birthday while laying foundation stone for Dr William Ruto Institute of Leadership and African Studies in Makerere University.
Wishing the Doyen a #HBDDPRUTO #HBDWilliamRuto pic.twitter.com/MWRlAlJk87

— Sir Jim kitch langat (@SirJimKitch) December 21, 2019