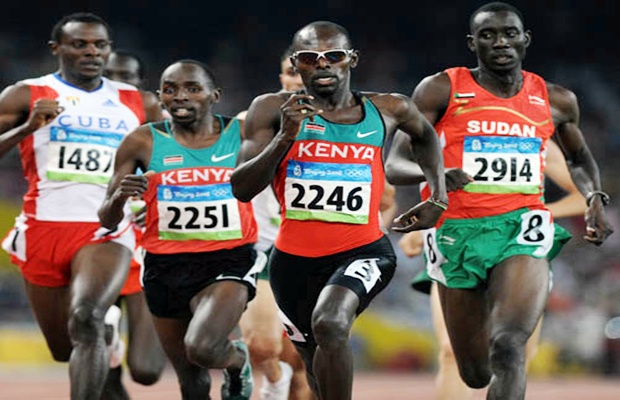 What clicks in your mind when you hear the name Wilfred Bungei?
Probably, many Kenyans know him as a former athlete, who has gone missing for quite a good time, like any other criminal sentenced to life behind bars.
But wait a moment. Wilfred Kipkemboi Bungei is actually a Kenyan retired Middle-distance runner, who won the 800m gold medal at the 2008 Summer Olympics in Beijing.
He also won the 800 metres title at the World Indoor Championships in Moscow 2006, defeating Mbulaeni Mulaudzi and Olympic Champion Yuriy Borzakovskiy in the course of the race.
The 39-year-old was ranked number one in the world, in 800m in 2002 and 2003. He has a personal best of 1:42.34  (Rieti 2002). At the 2001 World Championships in Athletics in Edmonton, he won a silver medal in 800m, finishing behind Andre Bucher.
Despite his success, Bungei has a story about his personal life you possibly didn't know.
In 2012, Bungei was about to celebrate one of the greatest days of his life. A baby was to be born- his third child.
He had missed the birth of his two kids because he was out focusing on his athletics career that had brought him an Olympic gold medal.
Unfortunately, needless to say, Bungei threw a fine chance to witness the birth of his third born. This time around, career was not an impediment. But ALCOHOL.
"I don't celebrate my birthday but I celebrate the day I stopped drinking. It makes me feel proud of myself. It makes me feel I have control over my life," he said.
Bungei found himself in a ditch
The low point came on that day, seven years ago when he was supposed to witness the birth of his child.
He says he reached for the vodka bottle after fooling himself that to get ready for the childbirth, he needed a drink.
"There was always that lie – 'let me have one or two so that I can have the courage to see is what happening'," he recalled.
"I chose to have a shot of vodka but I ended up drinking over one litre in a short span of time. I don't know what happened, but I do know I ended up in a ditch.
"People actually thought I had died."
Bungei also narrated how the unpleasant stuff brought a rift between him and his family.
"The kids would always fear to be in the car with me because on several occasions you'd go to a bar and end up driving home," said Bungei, who won 800m silver at the 2001 World Championships, as well as bronze at the 2003 World Indoors.
"You have one too many and you are driving and the kids see what you are doing on the road – it was not safe.
"Once I was involved in an accident and my son said: 'Dad, this is what happened.' Every time they'd see I'd had a bottle or two, they would not want to be in the car and this is the bigger part that affected me."
Turnaround
At this time, alcohol had affected Bungei both psychologically and physically- This is when the ex-Olympic champion got a breakthrough.
"There comes a time that drinking is giving you more pain, physically [so]," he said.
"I can remember there was a time when my body was feeling itchy, I was sweating all over and what was so scary was the hallucinations and the darkness coming.
"I was scared literally and had to be held to sleep – those were the moments that made me say it is enough."
In September 2012, a month after his reign as Olympic champion was ended at the London Games, Bungei called a number he had been given earlier that year.
Soon after, he was checked into a rehabilitation centre in Nairobi, Kenya.
He was released from the centre, six weeks later. He has not had a drink since!