Police have launched a hunt for the owner of ill-fated Tassia building that left ten people dead.
Search and Rescue operations came to an end today (Monday) after the emergency team got to the ground floor of the building that collapsed on Friday in Embakasi East Constituency.
Tassia rescue operation ends as police hunt for owner of ill-fated building. Details on #K24EveningEdition @rose_gakuo @Fredindimuli

— K24 TV (@K24Tv) December 9, 2019
At least 6 people are still admitted at the Kenyatta National Hospital after they were rescued from the rubble of the six-storey residential building.
Tassia Tragedy: Three more bodies retrieved bringing death toll to 10. 2 survivors rescued from the rubble on Saturday night.

Rescue team continue searching for the missing people#DayBreak pic.twitter.com/rD54mahLN1

— Citizen TV Kenya (@citizentvkenya) December 9, 2019
36 people were rescued in an operation that lasted four days.
Uokoaji Watamatishwa: Watu 36 waliokolewa kwenye vifusi vya jengo huko Tassia.
Watu 10 walifariki jengo lilipoporomoka Ijumaa.
Uokoaji umedumu siku 4, waathiriwa wanasitiriwa kanisani #CitizenNipashe pic.twitter.com/ITkaBFUCRg

— Citizen TV Kenya (@citizentvkenya) December 9, 2019
Residents have demanded the owner of the building be arrested but reports indicate that the woman is 'untouchable'.
An officer who spoke to a local daily said "the woman who owns this building and tens of others around the city is well known to the high and mighty. There is no office in this land which she doesn't get into".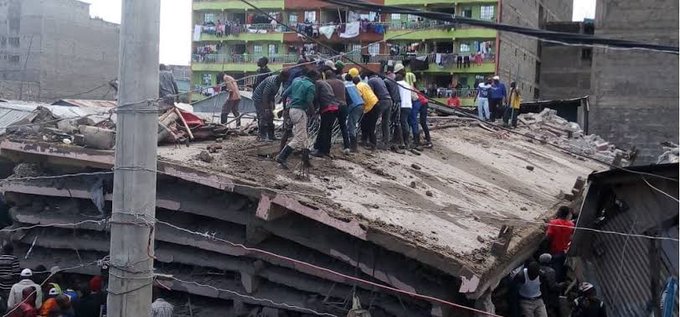 The Association of Construction Managers of Kenya blamed the tragedy on corrupt government agencies.
Its chairman Nashon Okowa said the National Building Inspectorate should make public a report on unsafe buildings in the city.
"Two or three years ago, the President commissioned the National Buildings Inspectorate to do a report on the state of buildings in Nairobi. That report was done and it is out indicting several buildings that we don't know about," Okowa said.
He was speaking to reporters at the scene of the Tassia tragedy on Sunday.