Reports of prime suspect in Monica Kimani's murder case Joseph Irungu alias Jowie being moved from Kamiti to Manyani Maximum Prison have stirred mixed reactions on social media.
The reports indicate that Jowie was transferred to Manyani in Voi, Taita Taveta County on Friday evening after prison warders found him with a contraband during a thorough search conducted at Kamiti.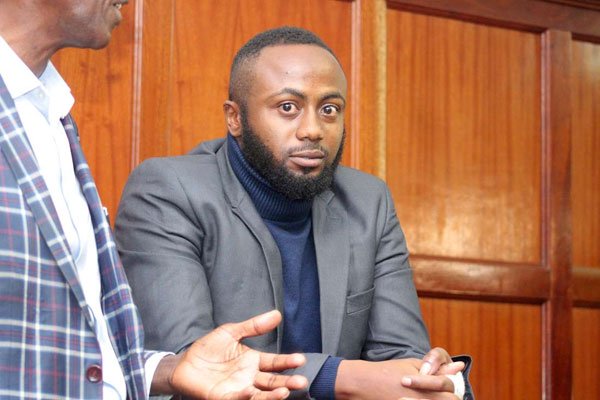 Jowie's parents have expressed their disappointment, arguing that the officer in charge of Kamiti only informed them of the development late Friday and they couldn't manage to visit since prison visits only take place on weekdays.
 Jowie's parents rushed on Monday morning to find a bus to take them to Voi.
"We have to see if he is okay and if indeed he is there," one of the parents was quoted by a local daily.
The move to transfer Jowie has seen Kenyans express mixed reactions, with some standing in solidarity with Jowie whilst some support Kamiti's move.
Some argue that this might be a move to assassinate him, arguing that he might have been framed in the case.
Don't be surprised when you hear Jowie is no more, now I believe the guy was framed. why transfer him to Manyani when he is still innocent till proven guilty.

— Mkisii Flani 🇰🇪™️ (@Mkisiiflani) December 9, 2019
Some claim that many other suspects have been granted bail and are now free. They claim that Jowie should be treated as innocent till proven guilty.
But there are many other murder suspects who have received bail
Plus Jowie is a suspect and not charged as guilty yet. A family lost a daughter yes but no one has been proven as the cause of loss yet

— Anker Baker (@AnkerBaker) December 9, 2019
Some netizens however argue that Manyani and kondele prisons are the worst, citing that Jowie is being exposed to more suffering.
Manyani and kondele prisons are worse than kamiti, someone wants to send a message to jowie, maybe he is not playing along with the script or he has finally burst and can't continue taking the fall any longer… Only time will tell

— Bigg Poppa (@chegewagithinji) December 9, 2019
Here are some of the reactions.
Joseph Irungu aka Jowie is one of the luckiest kenyan man who will see where Mzee Jomo wrote on the walls that he was once there. pic.twitter.com/Fv5f5w59RN

— Char-lee Oddie (@CharleeOddie1) December 9, 2019
Jowie should be given out to the Alshabab or Boko-Haram for free not transferring him. The pain in the hearts of the family of the lady he allegedly killed is still fresh. He should pay.

— Mmeru-finest (@Baite_Borisov) December 9, 2019
Makosa ya #Jowie ni kula mali ya wakubwa. These women can be tempting but find out the real owners before you even think of smashing them…

— Ingwe Kennedy (@IngweKennedy) December 9, 2019
Now Jowie is gaining the experience of a jail bird. Thats how we hop comrade!👊

— Dr. Kioko (@specialconvict) December 9, 2019
I don't care where they store Jowie, or how hard life in prison is. What he and the others did to Monica and the pain she died with is undescribable. He needs to get himself a boyfriend in Manyani too. It's gonna be a long stay.

— Fatuma Mchafu (@FatumaMchafu) December 9, 2019