Giving birth is one of the worlds greatest miracles. It's beautiful but also a matter of life and death for many mothers and children globally.
Kenyan celebrities have had their fair share of complications when giving birth to their newborns. Here is a list of a few who revealed that they almost died after giving birth.
Size 8
Size 8 is the latest celebrity to experience a near-death experience after she gave birth to her second child. She was forced to deliver before her due date her child through Cesarean Section. This is because the child developed complications.
"The all over sudden pressures became unbearable the blood pressure. Naskia dizziness naskia headache like oxygen was not going to my brain, Napata mpaka convulsions at some point nikaanza kupata minor strokes where the left side is completely paralysed. But the doctors were able to bring things under control," said Size 8.
"Last week I saw that the convulsions were happening more often and also the baby was not moving in my womb. And the doctor decided for me to go and get admitted in hospital. When I arrived at the hospital I couldn't breathe, I couldn't walk so I was immediately rushed to the emergency room. In the middle of the night while at the hospital the foetus heart rate went up, and the doctor said that there was no way they could buy more time for me and I was prepared to go to theatre for a C-section."
Check out the video below:
Chantelle Petit
Kenyan Youtuber Chantelle became an overnight celebrity after her birth and delivery video went viral. Mama booboo as she is commonly referred to as had a hard labor and an even harder delivery when giving birth to her baby Summer.
"I arrived in the hospital and they told me my baby was in distress. They found waste matter when they checked how far I had dilated," she said. "I remember her head was in my birth canal for a very long time and I kept asking myself, is that dangerous for my baby? What are the implications of that happening?" She wondered.
The ordeal left her with a third-degree tear and suffering from Fistula.
After the ordeal, she had to come back and face another hard reality that her baby daddy Ephy Saint, who is a famous actor, had abandoned her when she needed him. Apparently she was a side chic and he had his family. The whole scandal made several rounds online for several months earlier in the year.
Check out her birth story below:
Lillian Muli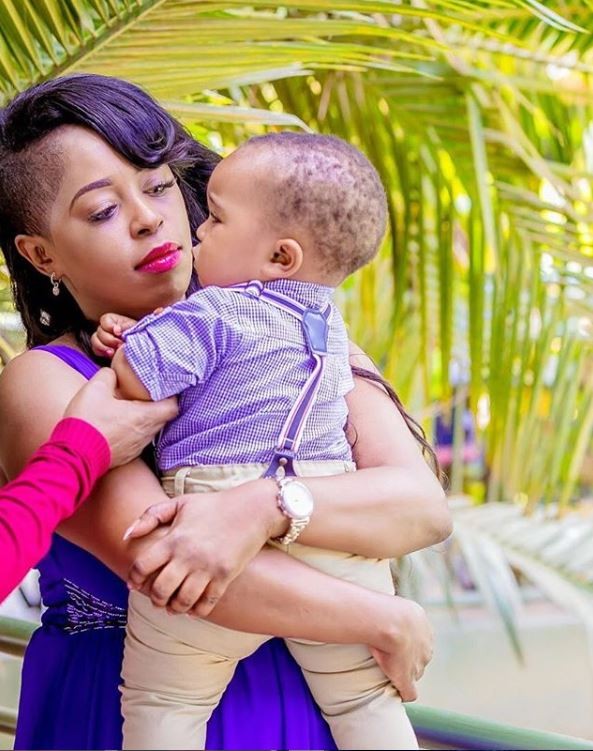 TV Presenter Lillian Muli opened up about what she went through during the birth of her last born son. She revealed that she underwent a caesarian section operation meaning she had to be opened up.
"I HAD A CS MY BABY WILL BE TURNING 6 MONTHS NEXT WEEK. LOSING MY TUMMY HAS BEEN A STRUGGLE BECAUSE AFTER A CESAREAN YOU HAVE TO BE CAREFUL NOT TO HURT YOURSELF AS THE HEALING PROCESS TAKES A WHILE. I'M EXCITED THE DOCTOR SAYS I CAN NOW GO FULL OUT. @VINITAOTIENO AND I ARE EXCITED THAT YOU TOO WILL BE A PART OF THIS; COMING SOON. MAKEUP BY @BAYAASTOUCH PHOTOGRAPHY BY @NJERIPHOTOGRAPHY"
DJ Pierra
DJ Pierra Makena revealed that she has ruled out getting pregnant again. This is because she went through the worst pain of her life during labour and her water broke at the Hub Mall in Karen.
"20th July 2016….at this time midnight….. I was going through the worst pain in my life….(labour) an hour later I was induced and maaan that damn pain….i was in soo much pain I turned blue-black… OH did I ever mention that my water broke when I was walking up and down the stairs at the HUB MALL?????" she said
Janet Mbugua
Popular media personality Janet Mbugua revealed that giving birth to her second-born Mali Mwaura Ndichu. She was even hospitalized for two weeks after delivery.
"It was insane, I underwent a surgical procedure next to my newborn. I had multiple meltdowns and I thank my family members (both mine and my hubby's) for being supportive. They were there for me. Most incredible families," narrated Mbugua.
"I was hospitalised for two weeks and have been on a recovery journey for one and a half weeks. It has been really tough, but I'm back getting healthier," she said.
Kathy Kiuna
Popular Televangelist couple Bishop Allan and Kathy Kiuna's last born Jeremy was born 6 months premature and that wasn't easy for his mother.
"My son was born prematurely at 6 months at only 1.1kg. He was anemic and went through a blood transfusion in his tiny frame. He was covered in pipes from his head all the way down and we couldn't see his face. Looking at his little body there seemed to be no hope. He was born a fighter thou and no matter what was thrown at him he always fought back and surprised all of us including the doctors." Kathy revealed.