Popular Comedian Eddie Butita has finally spoken after he was accused of publicly embarrassing a fan.
In a Facebook post that went viral, the fan- Giddy Akali, claimed that the comedian ignored him and publicly treated him with disrespect.
According to his narration, he reached out to Butita after meeting him in a food joint but his excitement of meeting the celebrity was turned down.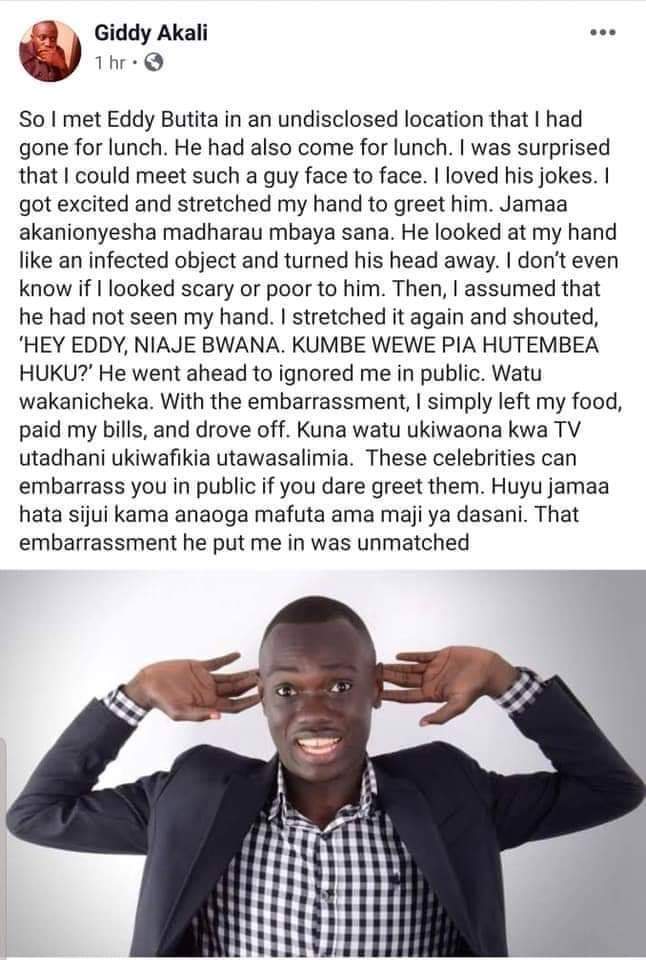 Butita rubbished these allegations stating that he did not ignore anyone. The comedian added that ever since he started his career, he has interacted with so many people who can agree that he would never disregard others.
"I have met thousands and thousands of people since I started my career. If they get a chance to speak one day, they will and the truth will be out.
I did not snob anyone why would I do that, what do I gain by doing that." He wrote
According to the comedian, the fan cooked up such lies with the intention of ruining his image.
In a quote, he noted that insecure people have a tendency of putting others down to raise themselves. Butita also mentioned that he appreciates his fans and does not take their support for granted.
Most celebrities are usually accused of ignoring other people when fame gets a better part of them. Even so, Butita has distanced himself from such  character.
Despite the setback, the comedian assured fans that he will never ignore them and told them to feel free to greet him whenever they meet.