With his current tough talks against ODM party leader Raila Odinga, Deputy President William Ruto has once again found himself on the wrong side of most social media sites.
Ruto, who has mastered the art of using social media sites, (twitter) to counter his perceived enemies, has for the past one week been throwing chaps at Raila for alleging that he was the mastermind behind recent chaos witnessed in Kibra by-election.
His usual whining, however, has angered a section of online users who have teamed up to mock his 2022 presidential bid.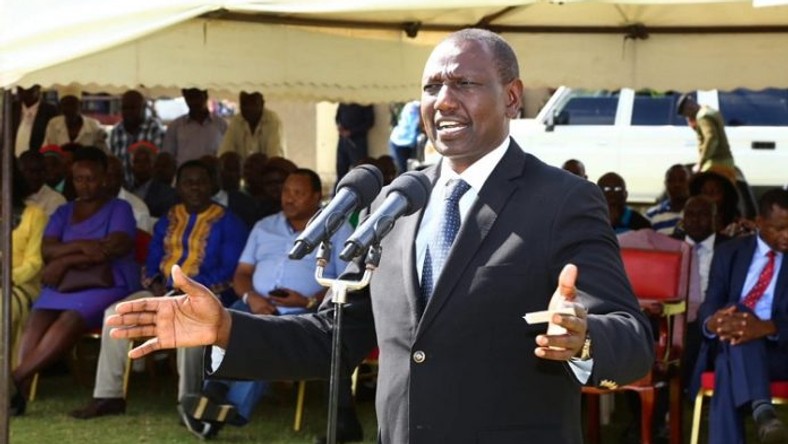 Among the major talking points that have kept Kenyans mocking Ruto is Jubilee's failed promises. In 2013, Jubilee administration under President Uhuru Kenyatta and William Ruto promised Kenyans creation of job opportunities as well as major developments.
Ruto was captured on records promising that the Jubilee government will construct state of the art stadiums in each county, something that has never matured.
"Jubilee has failed so let us elect William Ruto, he's a great performer he will reform the country for he knows the pain of sufferers."

Wisdom of Fools#Ruto pic.twitter.com/3tKfpiWAWD

— Kikuyu blogger (@itsmwangih) November 14, 2019
Kenyans also reminded Ruto of the high cost of living as compared to Kibaki and Moi's regime. According to most of them, corruption and misuse of public resources inside the Jubilee government had given birth to the rising inflation in the country.
#Ruto just for keeps and avoidance of doubt. pic.twitter.com/Jvd7tKfZcJ

— Tony Kavinguha🌿 (@AntonnyK) November 14, 2019
Many questioned Ruto's integrity, arguing that the DP had been mentioned in a number of graft cases in Kenya which includes allegations on land grabbing as well as major scandals which have been reported in Kenya.
In kenya If you see a guard guarding any government building during working hours,tell him the thieves are already inside😊 #Ruto

— Kathae Clement (@Clemmoh3) November 14, 2019
Others blamed Ruto for always standing on the way of every reform in the country which is aimed at benefiting Kenyans. according to them, Ruto was being selfish and not genuine in his resistance.
Dp #Ruto who is reportedly very distressed because of isolation, no money after handshake closed the corruption taps and his businesses closing down, the loss of Kibra and dwindling political fortunes needs to be rescued from himself… Someone please help

— Ruth A Otieno (@RuthOtieno20) November 14, 2019
Ruto was also largely associated with elections multi practices with others expressing their joy over the way Kibra by-election was conducted.
As DP #Ruto continues with his whining, he must know for the avoidance of doubt, that in the event Tinga @RailaOdinga were to be on any ballot in this or another world, he will never endorse electoral theft & malpractices – and that is the lesson to pick from #KibraByelection.

— Silas Chepkeres Jakakimba (@silasjakakimba) November 14, 2019
Many also accused Ruto of using social media to express his frustrations instead of facing his competitors head-on. They lamented that Ruto was copying The USA President Donald Trump.
Whoever has advised DP William #Ruto to adopt the Trump strategy of being reckless on Twitter, has failed him. This is the reason I advise people to always consider the role of CONTEXT before cop-pasting actions. Kenyan context doesn't consider that funny, but unfortunate.

— O S I A N Y® 🇰🇪 (@DavidOsiany) November 14, 2019
"Kalonnzo Musyoka was once deputy president and thought he was going be the next president, now nobody remembers him being deputy president. The same will happen to #Ruto, but nobody forgets the prime minister," argued another user
https://twitter.com/Asomah_Arthur/status/1194959441331929089
If #Ruto clearly feels that if elected president, he can do better than Uhuru, then he has betrayed him. If he is genuine enough, let him bring those ideas n help his brother before the ship touches the ocean floor. Otherwise both of them deserve the exit.

— Young_KOT (@HM_Programmer) November 14, 2019
However, some of the users felt that the deputy president had done enough for the country in terms of developments and infrastructure hence deserved to be given a chance to succeed his boss Uhuru Kenyatta.
Hapa Ni Kazi Tu.
Dp Ruto is Working Day and Night for The Best Of Our Country. UNLIKE The Perennial Losers who are Busy Abusing Dp and Doing Nothing To The People who Voted Them.
They Worship Raila Daily Instead of fostering Development.@WilliamsRuto @KBonimtetezi #Ruto pic.twitter.com/IUmhFovEyJ

— Captain Dominic (@CaptainDominicO) November 14, 2019
#Ruto Dp Ruto Vs Enemies Retweet if you can Relate pic.twitter.com/tNYWyRmbuO

— NICHOLAS TRUMP OSEKO (@Nichonasri1) November 14, 2019
According to some, Ruto was being targeted unfairly only because he had expressed his intentions to run for the presidency in 2022.
When #Ruto campaigned for Tinga in 2007, he was NOT a THIEF

When the DP campaigned for President Uhuru in 2013, now he became a THIEF

That narrative Raila is using to label Ruto as THIEF is tired & won't work.

He should retire & go back to Bondo because the ground has shifted

— Captain Machuka 🇰🇪 (@Machuka254) November 14, 2019
Odingaism has made Luos poor; Lord of Poverty

Guy is not dev't minded; was kibra mp for 20yrs & did nothing

He's greedy & hungry for power;

He's not circumcised; just like me

Guy is stingy; hatoi kakitu

He's corrupt; REM kisumu molasses

He's warmonger; likes violence#Ruto

— Joseph Omondi (@omondii_) November 14, 2019