Harambee Starlets have blown away their 2-1 second-half lead to share spoils with Zambia in the first leg of their 2020 Olympics Qualifiers at Kasarani Stadium on November 8.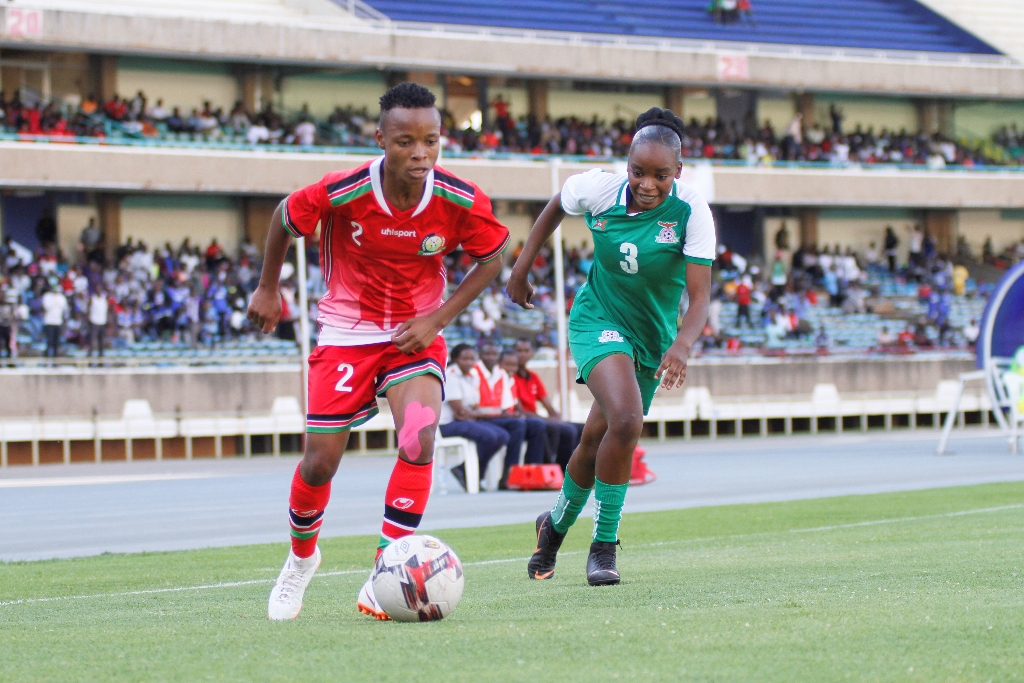 Striker Mwanahalima Adam stood out from the match's onset with beautiful runs and passes but the visiting team managed to make it 2-2 after canceling Vivian Odhiambo's second-half goal.
Before this, Zambia had converted their opener at the 12th minute courtesy of Grace Chanda, but in the 30th minute, a blunder from Mwemba Lushomo led to Harambee Starlets' equalizer sending both teams to the tunnel with a 1-1 draw.
Vivian Odhiambo secured a 71st-minute goal in the second half for a lead which lasted barely one minute before the visitors equalized from a Rachael Kundananji strike.
The two sides will face off in the second leg on November 11- a match whose outcome will send the aggregate winner into the tournament's fifth and final qualifying round.
SQUADS
Harambee Starlets Starting XI:
Annette Kundu (GK), 3. Vivian Nasaka, 15. Wincate Kaari, 5. Dorcas Shikobe (C), 20. Ruth Ingosi, 17. Vivian Corazone, 14. Elizabeth Wambui, 4. Cynthia Shilwatso, 6. Sheril Andiba, 2. Mwanalima Adam, 7. Janet Bundi.
Subs:
Judith Osimbo (GK), 19. Monica Odato, 11. Nelly Sawe, 19. Lumasia Siliya, 13. Lucy Akoth, 12. Lydia Akoth, 10. Jentrix Shikangwa, 9. Topistar Situma, 8. Mercy Airo.
Zambia Starting XI:
Natasha Hazel, 8. Margaret Belemu, 13. Marthe Tembo, 5. Anita Mulenga, 3. Mweemba Lushomo, 12. Rhoda Chileshe, 7. Zulu Misozi, 17. Mary Mwakapila, 14. Rachael Kundananji, 11. Barbra Banda, 10. Grace Chanda
Subs:
Musole Ngambo, 2. Mary Mulenga, 4. Emeldah Musonda, 6. Judith Zulu, 15. Agness Musase, 18. Annie Namonje, 19. Vast Phiri, 9. Hellen Mubanga, 20. Rachael Nachula.