Arsenal manager Unai Emery on Tuesday confirmed that he has stripped Granit Xhaka off the Arsenal captaincy and awarded the armband to Gabonese striker Pierre Emerick Aubameyang.
The Switzerland midfielder has been under criticism for his actions during Arsenals home match against Crystal Place two weeks ago. Xhaka hurled abusive words at the Emirates Stadium crowd after he was substituted in the second half as Arsenal blew a two-goal lead to draw 2-2 with their London rivals.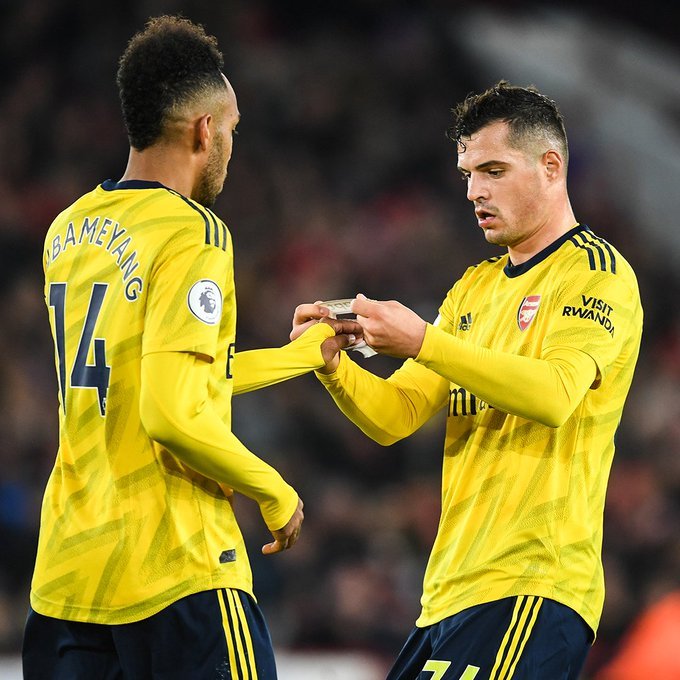 As a result, Xhaka has been completely missing form the last two matchday squads for the Gunners and will miss Wednesdays Europa League clash against Vitoria Guimaraes. Prior to the match, Unai Emery explained his decision to appoint Aubameyang as the new captain.
"We have now Aubameyang, Hector, Lacazette and Ozil – they are the four captains, and first is now Aubameyang," he explained.
Xhaka has since issued an apology since his ill-advised actions but the damage has already been done. He has been Arsenal captain for barely two months as he was only officially confirmed as the Club skipper in October.
The decision prompted lots of reactions from Arsenal fans on Twitter…
Absolutely the right call to take the captaincy off Xhaka. Damage was irreversible. Whether he still has a future as an Arsenal player we will have to wait and see. Possibly, but you would think only for the short-term. An exit now feels inevitable.

— Charles Watts (@charles_watts) November 5, 2019
While I'm thrilled and happy for Aubameyang, disappointed with @Arsenal's treatment of Xhaka.

— Rupin Kale (@Vegansportlover) November 6, 2019
I really hope Xhaka stays and doesn't leave but if he has decided to leave I wish him all the best. Again wrongly scapegoated for the ineptitude of managers. Also will never forget his massive contribution to us breaking the record for Fa Cup wins. Respect Granit pic.twitter.com/RjwnEOnudm

— Akhil #IstandwithXhaka (@akersarsenal98) November 6, 2019
Big up @Aubameyang7, our new captain, so sorry for the things Xhaka was going through, still he never apologized, thats not acceptable! #Xhaka

— SO (@hz08434349) November 6, 2019
Arsenal have removed Xhaka from the captaincy group. Aubameyang is now club captain. A decision that perhaps should have been made at the start of the season, let alone a week ago.

— gunnerblog (@gunnerblog) November 5, 2019
I feel for Xhaka. He's always given his best. To be 'stripped of captaincy' is quite harsh and it sets a dangerous precedent i.e. the abuse & boos win. Stick up for your players, protect them. We've just thrown him under the bus. End for him.

— FK ☕️🐍 (@fkhanage) November 5, 2019
Do You think this was the right decision? Share your thoughts in the comments section below…