NTV Presenter Amina Abdi who is undoubtedly one of the most celebrated media personalities out of East Africa. She has grown from an ordinary media girl to a powerhouse who is now associated with several big brands.
Amina, alongside fellow host Fareed Khimani of Capital in the Morning radio show on Capital FM 98.4 Kenya, has set out to make history in the Kenyan broadcasting scene.
They will be hosting the longest talk show in Africa. The 28-hour mark will be halfway to beating the world record which currently stands at 60 hours.
For the FIRST time ever ,in Kenya ,a radio marathon 📢28 hours on radio non stop #28HourMarathon #AminaAndFareed
Tune in guys pic.twitter.com/DzDm0QyVt6

— #28HourRadioMarathonOn98.4📢📢📢 (@Shukri96Wako) October 30, 2019
This is all happening after Kenya's notable athlete Kipchoge accomplished his breathtaking Ineos 1:59:59  marathon challenge with relative ease, finishing the test in 1 hour, 59 minutes and 40 seconds.
The 28-hour Marathon commenced on the 30th of October at 6 am and expected to run until 31st of October 2019 at 10 am.
The Sponsors include Nivea,Hilton,Glovo,among others.
We started off the #28hourmarathon with an enticing and delicious breakfast spread courtesy of @HiltonNairobi to "set base". 😋 #AminaAndFareed #Breakfast984

Stream Live via: https://t.co/HDXY3zzGrI pic.twitter.com/mQ6JXvnIRg

— Capital FM Kenya (@CapitalFMKenya) October 30, 2019
Nivea has our back for the #28HourChallenge! #AminaAndFareed #Breakfast984 https://t.co/3SaqzRPPEc

— Capital in the Morning (@984inthemorning) October 29, 2019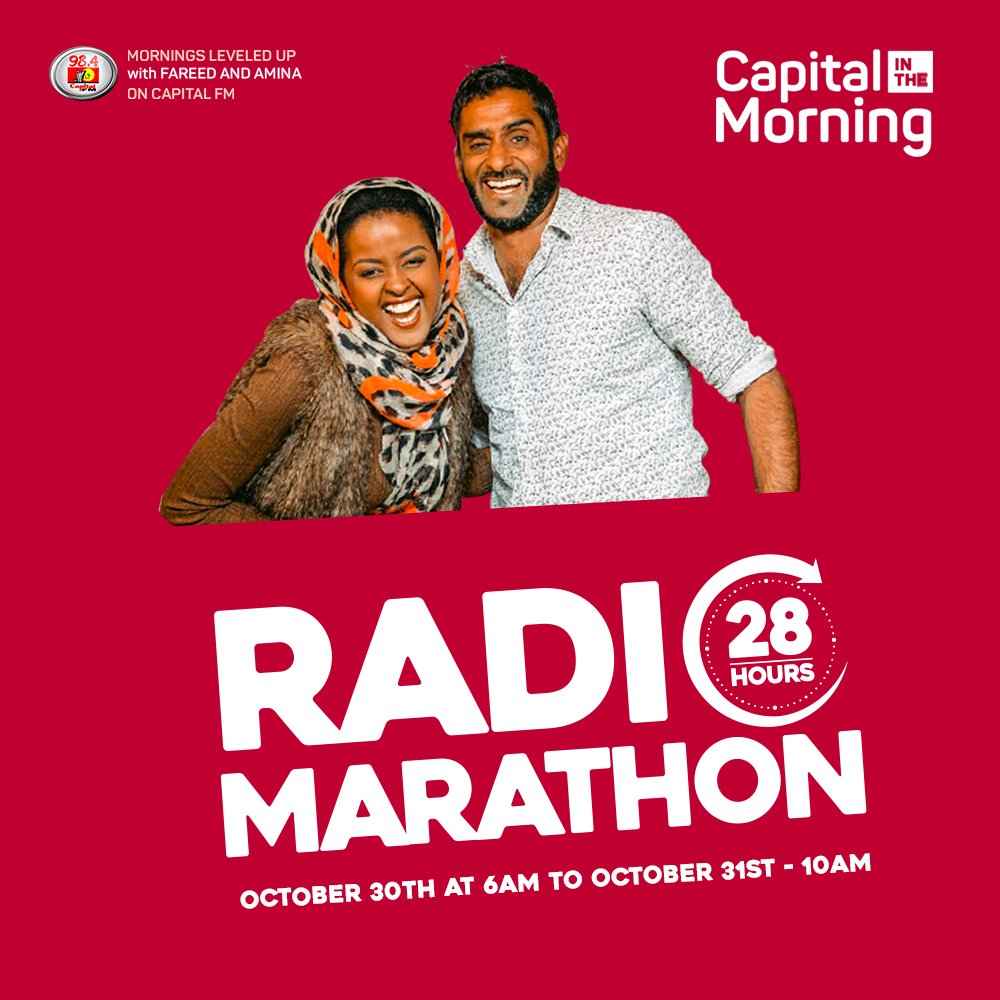 The duo has urged the public to come out to support them as they embark on this challenging but exciting venture which has never been tried in Africa.
Kenyans on Twitter were not left behind in giving their opinions. Here are some of these reactions:
@Phil_MikeMwangi:Hey @aminaabdirabar&@FareedKhimani, you see how Kipchoge always has lots of energy even after finishing his runs? You got to be like him even after the #28HourMarathon I, therefore, challenge you that you must report to work on Friday at 6 am for @984inthemorning. #AminaandFareed
@Kyamah_Peter: Good morning guys let's do this…… We are behind you all the way setting pace.
@KimosopJr: All the best for @FareedKhimani and@aminaabdirabar for the #28HourMarathon #AminaAndFareed #Breakfast984@984inthemorning.Did you get supply of mursik?