Just a day after the Central Organisation of Trade Unions (Cotu) Secretary-General Francis Atwoli renewed his attacks on Deputy President William Ruto, Kapseret MP, Oscar Sudi, has hit back at the trade unionist over his remarks.
Speaking during a wedding function on Sunday, Sudi hit out at Atwoli terming him as the epitome of incompetence, promiscuity and corruption in Kenya.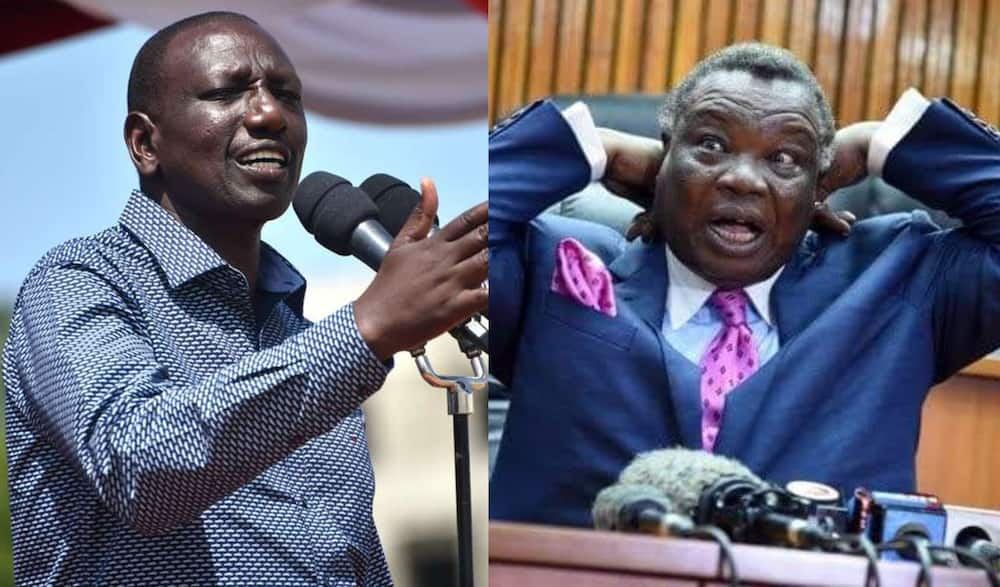 According to Sudi, who is also considered one of Ruto's footsoldiers, it was not in order for Atwoli to keep on accusing the DP when he (Atwoli), as a director, has been at the helm of NHIF, NSSF, National Bank, all public institutions riddled with monumental theft, loss of public money and corruption.
Sudi termed Atwoli's remarks on Ruto as a lecture from a thief with no known business, famous for infidelity and a person who had no moral authority to speak on corruption.

At the same time, Kapseret legislator, also accused Atwoli of stooping to low and engaging in insults with leaders young enough to be his grandchildren. He said Atwoli was boasting of riches he acquired through stolen money from poor unsuspecting workers.
"Atwoli should desist from snatching young people's wives. I am telling him this with all due respect because he is the age of my father. This is bad behaviour exhibited by an old man of his caliber. I also urge him to desist from smoking this illegal weed and stop abusing leaders young to be his grandchildren's age," stated Sudi.
Sudi's remarks came hours after Atwoli told the second in command to forget about the presidency in 2022.
Speaking on Sunday at Bukhwala Seventh Day Adventist Church in Khwisero Constituency during a fund drive, the Cotu boss told off Ruto over his 2022 campaignings to become president saying the DP lacked the credibility to lead the country.
He also threw jabs at Ruto accusing him of misleading Luhya community that he can unite them politically.
According to Atwoli, the DP's continuous narrative that the Luhya community was divided was in bad faith aimed at benefiting himself politically at the expense of the community.
Francis Atwoli: You cannot get a seat here (Kakamega) without my blessings, this time the names I'll read out are the candidates Luhyas will elect. #CotuFundsDrive pic.twitter.com/8l0K2hoTq5

— NTV Kenya (@ntvkenya) October 13, 2019
"Our community is not divided as some people want us to believe, if there is division, then it is among few politicians and leaders, our people are united," stated Atwoli.
The Cotu boss maintained that the Luhya community would never support Ruto's 2022 presidential bid assuring that he would give them the right direction when the time comes.
Francis Atwoli: I am going to be part of Kenyans who will formulate a new government after President Kenyatta; I cannot be left out. #CotuFundsDrive pic.twitter.com/zxyd0derH8

— NTV Kenya (@ntvkenya) October 13, 2019