Transport along Thika road was paralyzed for the better part of Monday afternoon after students striking students from Kenyatta University blocked the road.
Motorists playing the route were forced to seek alternative routes after the rowdy students started pelting stones at their vehicles.
The students who were shouting 'Tumechoka Kunyanyaswa' (We are tired of being mistreated) are said to have been calling for the exit of Professor Paul K. Wainaina, who is Kenyatta University Vice-Chancellor.
Among grievances raised by the students included a push of fees paying deadline to two weeks before exams, students with petty offenses to be allowed back into the institution, supplementary fees to be scraped off as well as reinstating all casual workers who lost their jobs in unclear circumstances.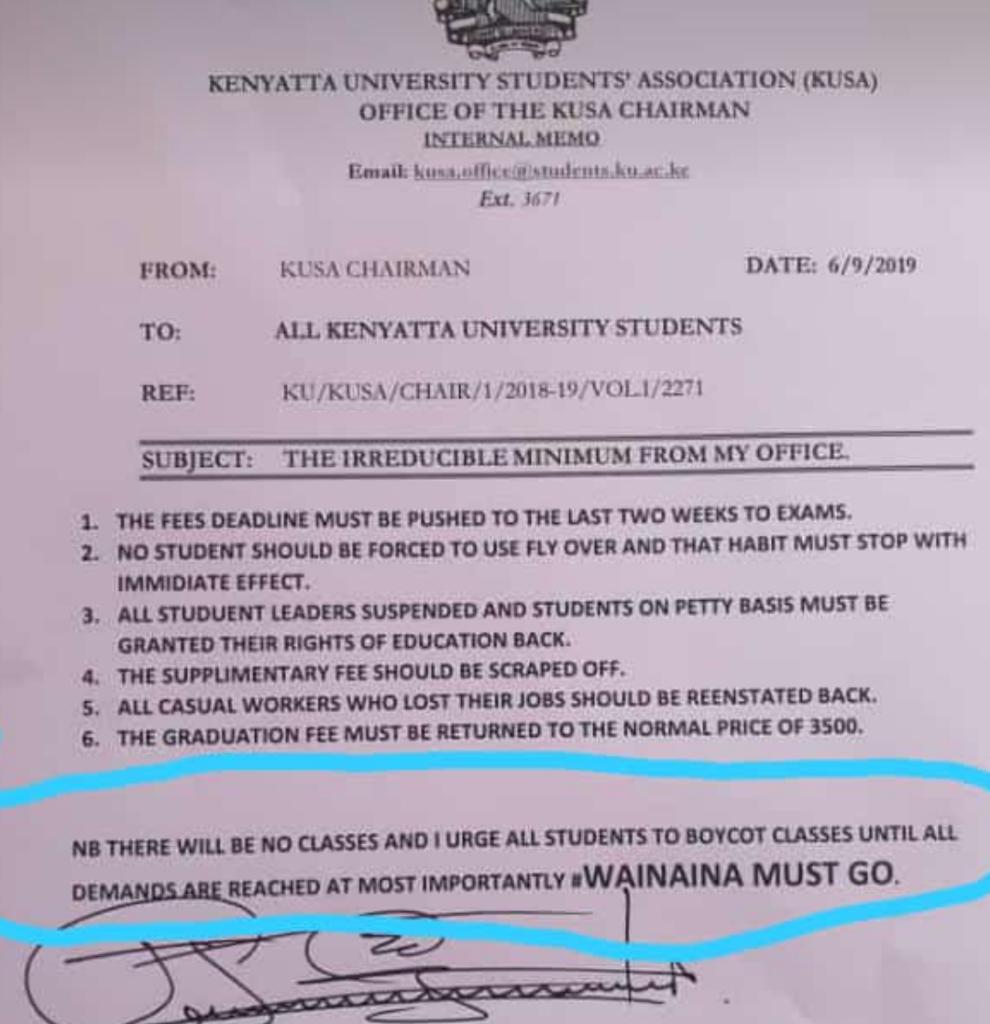 14:27 @citizentvkenya KENYATTA UNIVERSITY DEMOS ONGOING!!!Avoid Thika Road Guys pic.twitter.com/3DJll4pHp6 via @muchai_claire

— Ma3Route (@Ma3Route) October 7, 2019
In an earlier internal memo to the students,  KUSA Secretary-General had arged the students to remain calm and stay away from the planned strike since their welfare concerns were being looked into by the relevant university offices.
Here are the videos from the institution;
Kenyatta university comrades holding a very peaceful demonstration! pic.twitter.com/HVnWAfG59W

— Peter Evans (@PeterEvans254) October 7, 2019
#WainainaMustGo you must just go from Kenyatta University we loved you but your decisions were not good you have to go from the University

— Nior ke (@nior_ke) October 7, 2019
Currently at Kenyatta university.#tumechokakunyanyashwa #KU pic.twitter.com/TmoDqWGoFe

— Faustine_🇰🇪♦♠ (@Faustine307) October 7, 2019
Students at Kenyatta University stage a demonstration at the main Campus.#Developing pic.twitter.com/HgpIGKcT67

— Vincent Odundo (@V_Odundo) October 7, 2019
The police should to exploit peaciful channels of dispersing groupings or illegal PEACIFUL demonstrations.
Lobbying teargas on Kenyatta University Students who are voicing their concern is a wrong move.
Now hostile police intervention has led to ugly scenes on ground.

— Suzan Owuor (@SuzanOwuor) October 7, 2019
But honestly, a 4years' degree shouldn't be as hard as it is to get it at Kenyatta University 😭😭

— Yo' Lady Mukami🇰🇪 (@mukami_martin) October 7, 2019
Rt @TheHorseMouth
UPDATE!! There is a student protest in Kenyatta University for what students term as Mismanagement at the institution. Users of Thika Road should be careful while driving around the region. pic.twitter.com/q0BbhqaG37#KenyanTraffic

— KenyanTraffic (@KenyanTraffic) October 7, 2019