English Premier League record champions Manchester United were beaten 1-0 by Newcastle United to go into the international break just two points above the relegation zone.
The result also means that The Red Devils have won just two of their first eight Premier League matches an ae 12th on the log. The future does not also look bright for Manchester United as they will face off with league leaders Liverpool immediately after the international break.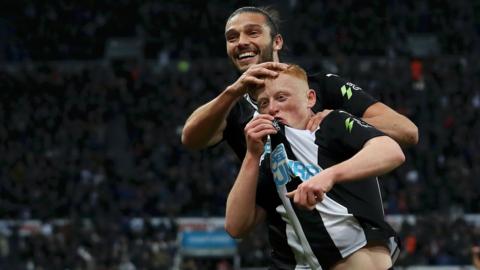 Should they fail to win that match at Anfield and other results fail to go their way, Manchester United could be in the relegation places by the time that game ends. This has led to some fans calling for the resignation of their manager Ole Gunnar Solskjaer with immediate effect.
The Club legend was appointed last season to replace Jose Mourinho who was sacked following a series of poor results and falling out with some of the squad members including world cup winning midfielder Paul Pogba.
He has collected just 17 points from his last 17 matches and was relegated with Cardiff City in 2014. The fans see now way forward with him and are adamant that he is not the right man to steer Manchester United back into the glory days.
Jose Mourinho was sacked after taking 26 points from 17 league games last December. Ole Gunnar Solskjaer has taken 17 points from his last 17 league games.

— Mark Critchley (@mjcritchley) October 6, 2019
Ole Gunnar Solskjaer

Pls get the fuck out of my club pic.twitter.com/FrvqWYQSLV

— Cinderella Man (@Osi_Suave) October 6, 2019
Just got to know Manchester United is playing Liverpool next.
This is death before life, someone tell Ole to kindly forfeit the match already.

— Azeez Olajide ❼ (@zeezish___) October 6, 2019
The squad is unbalanced and poor. The leadership above him is abject. But Ole Gunnar Solskjaer is entirely unfit for his position, and maintaining faith in this mistake would be worse than making it in the first place.

— Daniel Storey (@danielstorey85) October 6, 2019
Ole is feeling the pressure now #ManchesterUnited #olegunnarsolskjaer

— BenchWarmers FC (@BenchWarmersFC1) October 6, 2019
Since Ole Gunnar Solskjaer was appointed as Manchester United boss, Liverpool have won the same number as Premier League matches (17) as United have won points.

— Colin Millar (@Millar_Colin) October 5, 2019
Ole Gunnar Solskjaer is completely out of depth. The squad is terrible (not his fault) he is completely out of his league to fix this absolutely mess.

We are 3 points off the relegation zone and that's embarrassing and not good enough.

Times up, he needs to go.

— Aidan Walsh 🔰 (@AidanWalshMUFC) October 6, 2019
Is Ole Gunnar the man to take Manchester United forward? Share your thoughts in the comments section below..