Though most people write formal official complaint letters to companies, Patricia Kihoro's uncle, broke the code when he wrote the most humorous letter to CEO of  DT Dobie company complaining about delayed services.
The guy whose letter was shared on twitter by media personality -Kihoro of Homeboyz radio incorporated creativity, excellent grammar, and humor. The lady who says that the guy is her uncle went ahead to confess that he is a sarcastic uncle in real life.
Lol. My uncle wrote this letter to the CEO of DT Dobie because of a delay with his car. The passive aggressiveness 😂😂😂 But also this is his personality everyday kwa family wozzaps. He's one of the most sarcastic people I know and I love him for it.
Patricia wrote
In the letter, the man who is said to be a banker narrated 11 key events that took place worldwide since his car was taken for repairs. Sarcastically he said that his car had been detained at DT Dobie for eleven days.
Lol. He's a banker 😂😂😂😂😂😂😂

— Patricia Kihoro (@Misskihoro) August 27, 2019
He talked about the Amazon fire news breaking the internet, Kenya's first oil batch export, the G7summit in France among other Key events. He later told the CEO that while all the events have taken place, his car was neglected and left untouched at their premises.
Here is the letter.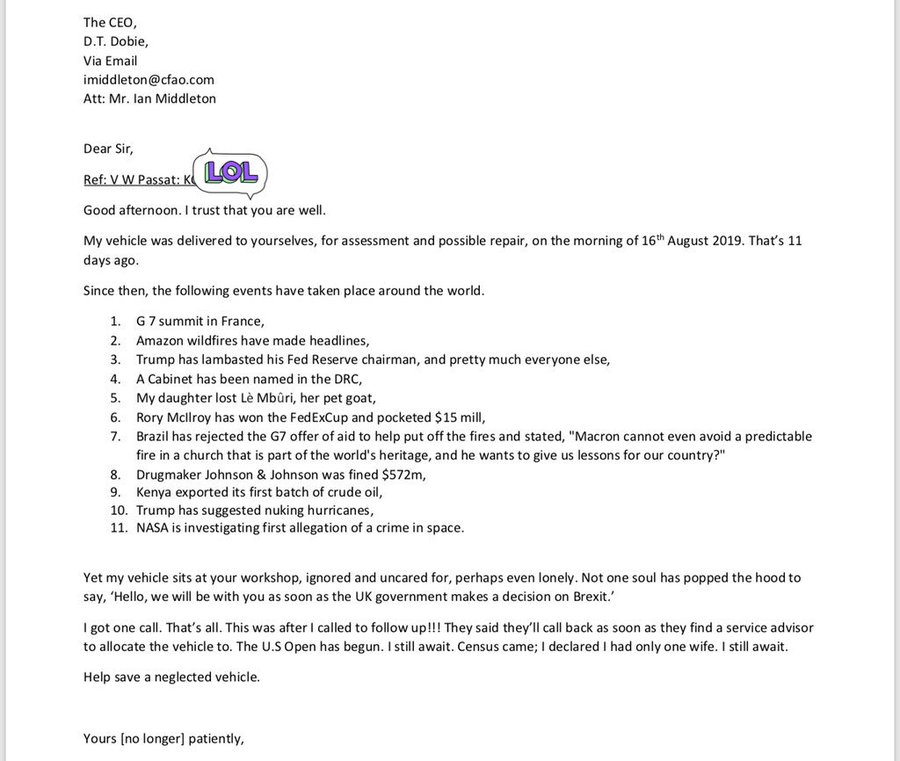 And you know what the niece went ahead to say that the CEO responded promptly
And just so you know, the CEO very promptly responded and took action!

— Patricia Kihoro (@Misskihoro) August 27, 2019
The letter was described as the most hilarious letter written to an organization. Kenyans On Twitter were awed by the piece of writing could.
See reactions
Please tell him we are ready for blogs… hell even twitter threads. No pressure. We just want to get into his mind through his writing.

— Corrie (@corriemwende) August 27, 2019
@Misskihoro Your uncle after pressing send pic.twitter.com/y4c9SMgQAh

— Masai Adam Muoki (@AdamMasai) August 27, 2019
Dr. Njoki Ngumi 🇰🇪; A LETTER WRITING KING 👑👑👑👑👑👑👑👑👑👑👑👑👑
Bigg Poppa; He is hilarious…. He is our uncle now too, please share
Corrie; This letter 🙌🙌🤣. Is he a writer because I would def love to read his stuff! Ah! Wit and sarcasm win!
Zimlass; 🤣🤣🤣this is the one uncle we all need in life… No choice but to stan a king
I could feel his disappointed in them when he referred to them as yourselves pic.twitter.com/8QOQjoBxiJ

— Edwin Nigel Kuria (@eddbrainy) August 27, 2019
Kelly Andrei Gitahi;
Number 12 – Nicolas Pepe has become the first player to successfully dribble past Virgil van Dijk Number 13 – Trump doesn't know the difference between UK and England Number 14 – Ezekiel Mutua banned Wamlambez
Loise Kinuthia; Kuna compe hapa,, wow I can imagine his daily life response to stupid questions