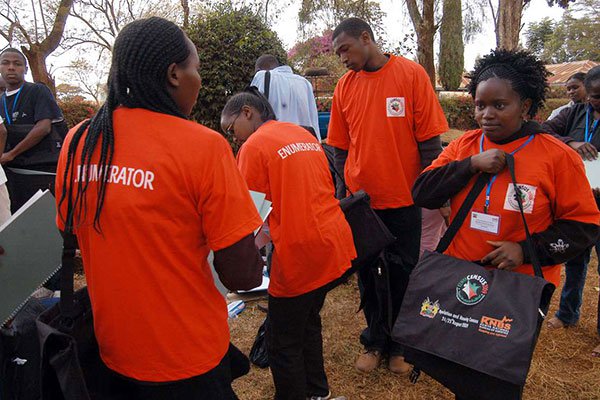 Many Kenyans may perceive the census process as a by the way, but enumerators who participate in census-taking become some of the highest valued auditors in market research field campaigns. Research firms know how difficult it is to get access to someone's home and conduct an interview.
Those enumerators are going to network all over the country on taxpayers money and get paid for it. That CEO or VC you desperately want to get an audience with for your pitch? Guess whose going there first, and not to their office, but their home, for a one on one interview.
Some Kenyans, however, have been very receptive to them and one Mc Jessy has represented the team mafisi once again. A photo of a beautiful enumerator has surfaced and Mc Jessy could not help but admire her. Taking to Instagram he posted with a caption;
'Huyu alikuwa area gani? Lazima anihesabu tena. Kwani Kinoo walituma elders peke yake. Huyu akikuja nitamfanyia shopping na nimpatie pocket money.'
Here were some reactions.
Verified
Jessy!! Jessy!! How many times will I call you
Verified
@jessythemcbro.. I booked her first!!
Hapa JackMill tuliLetewa Shosho ndio anatuHesabu
Mimi ata nimemfanyia shopping, Nani akona number yake?
😂😂😂😂😂😂Pigia matiangi na upin location nimlete
Ana respect wakongwe wengine wanaingia kwa nyumba na viatu mpaka juu ya carpet bure kabisa.
Hhahaahaah uende kwake akuhesabu
Willy Paul nimeitikia wewe unaweza rundiwa tena
Huyu mimi amenihesabu saaana….ata escort me ndo kampa….😂😂😂
Hata viatu alitoa and the way she is so pretty, lakini majamaa wengine walikua wanaingia na maviatu bila adabu😢😢
@jessythemc uko sure hizo socks zake hazinuki? Nituchafu😂😂
Jessy c population itakuwa imesoma juu Na pesa n less aky!!!
😂😂😂wewe sijui ulikosa kuitwa kevo kwanini ama ulichange jina?😂😂😂
The government on Monday stated that each of the enumerators mandated with carrying out the census is expected to have covered 100 households by the end of the exercise. However, this might not necessarily occur as 'Team Mafisi' will be waiting to unleash their wrath.