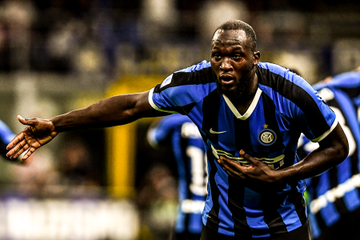 Former Manchester United striker Romelu Lukaku had the first of many celebrations in an Inter Milan Kit. This came after scoring a goal on his debut to the Italian side in their pulsating 4-0 victory against the promoted Lecce on Monday.
Marcelo Brozovic, with a lovely curling shot, and Stefano Sensi gave Inter a 2-0 halftime lead before a new signing, Lukaku, opened his account on the hour.
Antonio Candreva completed the rout with a stunning strike from 35 metres.
"I am very happy and satisfied; I like working with these guys who have always shown great willingness," said Conte after the match.
"Romelu has entered the Internazionale world with great humility, he is ready to work for the team."
After scoring his first goal in Italy, Lukaku made a celebration of its own- one that defines how comfortable he is. But this has drawn mixed reactions from fans on social media.
Check out what fans had to say at the sight of Lukaku's brilliant start;
— Cp (@cp_pulisicszn22) August 26, 2019
scores a tap in against Lecce and now he's Messi. still gonna flop

— James McClein⚫️⚪️ (@j_mac234) August 26, 2019
He was terrible and scored a tap in. Prevented a goal by being offside. They really didn't.

— Sana (@Baelotti9) August 26, 2019
If the defender was not that far back, I'm pretty sure Lukaku would've held his run. we're talking about a striker who has 195 club career goals and 48 goals for Belgium, just because he's not a media favourite and is criminally underrated, doesn't mean he's a bad player

— PazzaInter (@SimplySensi12) August 26, 2019
The media scapegoat him, and so do the united fans, they don't understand his potential and capability, while Rashford is never criticised. If you really think all that Lukaku achieved that game was a tap in, you need to go watch table tennis, cos his play as a whole was great.

— Hamed (@Hamed28209089) August 26, 2019
I'm happy for him. Finally out of a toxic relationship

— 🗿 (@Kirrch_) August 26, 2019
Hope he succeeds at inter.

— Depressed United fan (@Aadam9875) August 26, 2019
Prove the haters wrong Lukaku! pic.twitter.com/6xTOZQVx4i

— FreeAgent10 (@Agent10Free) August 26, 2019
Goal debut for Wes Brom, Everton, Man Utd, and @Inter_en HE'S THE MACHINE GOAL!!

— Choirul (@monntemon) August 26, 2019
Wait till they play a decent team…he will go missing and they will find him in some Italian pizza restaurant

— ali beast (@mombwe2) August 26, 2019
Lukaku was signed from Manchester United this month after facing a torrid time at the English club during his 2-year stint. He made 66 appearances at Old Trafford and scored 28 goals.