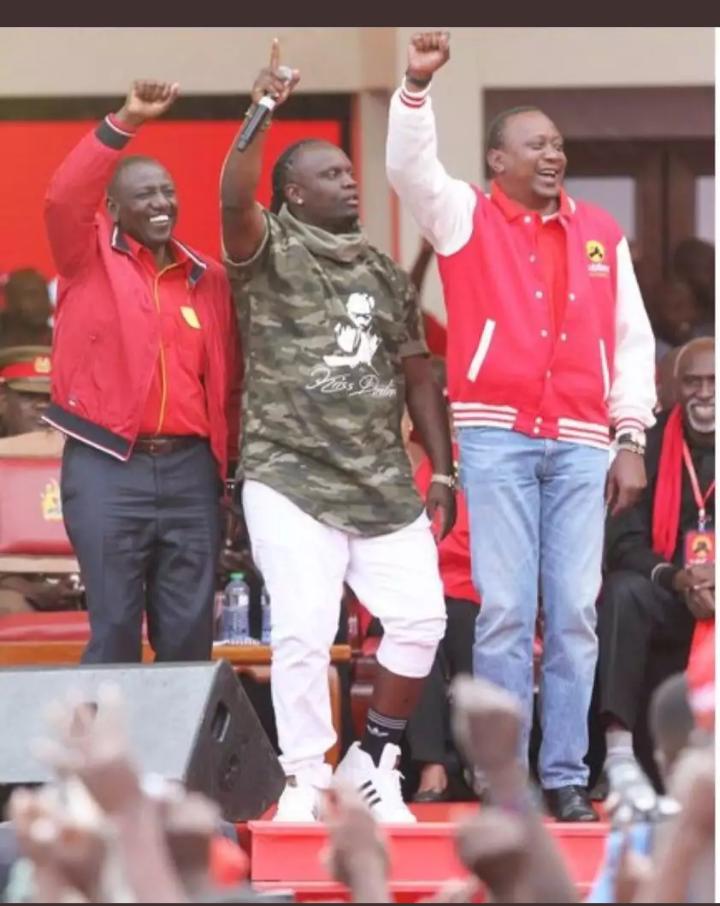 Reggae DJ turned politician, Kris Darlin, has been making headlines since his theatrics of kneeling before ODM leader, Raila Odinga, while begging for his support in the Kibra MP seat.
On Sunday, the DJ shocked many after pulling the stunt on stage with a mic in his hand, asking Raila to endorse him for the seat in exchange for his support in the presidential race come 2022.
"I have heard that there are many young men in Parliament fighting Baba (Raila), allow me as their fellow youth to go fight them in there as you wait to fight in 2022. Let them shoot me if it means that you remain and lead in 2022. I ask that you hold my hand Baba," he stated.
However, to some Kenyans, the reggae DJ has been branded an opportunist and not an ODM loyalist as he tried to brand himself. This comes after a video of him campaigning for President Uhuru Kenyatta and his Deputy William Ruto in 2017 went viral.
In the video, Kibra MP contestant was rallying a crowd to vote for the duo. He even changed the lyrics of a popular reggae song 'Black People' to fit into Jubilee praises.
In 2017, Kriss Darling even CHANGED the LYRICS of this song(Black people) to fit in Jubilee. Today he has desperately knelt for Raila to be nominated, not to represent the people of Kibra but to 'defend Raila' in Parliament. Kenya deserves better smh😳 pic.twitter.com/XNKrwXbXTs

— Mason OVO (@masonOVO1) August 26, 2019
The video has since attracted angry reactions from ODM supporters. Here are some;
In 2017, Kriss Darling even CHANGED the LYRICS of this song(Black people) to fit in Jubilee. Today he has desperately knelt for Raila to be nominated, not to represent the people of Kibra but to 'defend Raila' in Parliament. Kenya deserves better smh😳 pic.twitter.com/XNKrwXbXTs

— Mason OVO (@masonOVO1) August 26, 2019
Interesting times indeed. Say no to opportunists. #Krissdarling @TheODMparty , @edwinsifuna pic.twitter.com/3JGTYWpgVj

— Gaddafi Were (@WereGaddafi) August 26, 2019
@KoinangeJeff @Hot_96Kenya Kriss Darling is an opportunist who must be ashamed and disappointed at the ballot. Kibra residents need someone who will fit into the shoes of The late Ken Okoth #JeffAndHamoOnHot pic.twitter.com/BUmCpsxOPP

— His Lordship Washington Junior. (@junior_onyango) August 27, 2019
By the time Kriss Darling was kneeling down, Jubilee had not thrown their carpet on the floor for kneeling. If Kriss doesn't get ODM nomination, will he take the Jubilee hat? @KoinangeJeff @HamoProf @Hot_96Kenya #JeffAndHamoOnHot

— Jeremiah Kariuki (@KJeremiahN) August 27, 2019