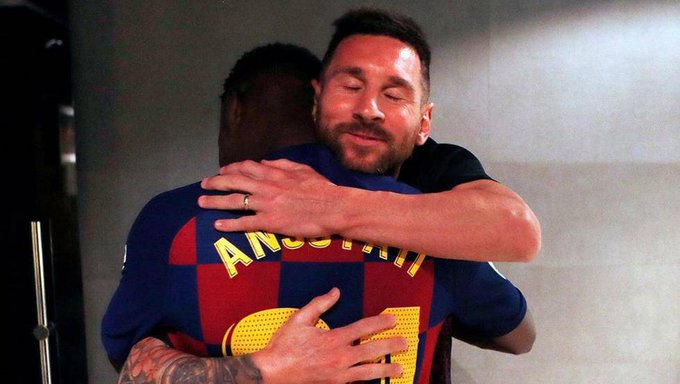 Barcelona fans were emotionally driven after a photo of their captain Lionel Messi and youngster Ansu Fati went viral on social media. Messi was seen hugging the 16-year-old after their 5-2 victory over Real Betis.
Ernesto Valverde gave a first-team debut to Ansu Fati at the age of just 16, taking to the Camp Nou pitch against Betis for just over 10 minutes.
The forward, from Guinea-Bissau, has been training with the first team this week due to injuries to key attacking players, such as Lionel Messi, Luis Suarez, and Ousmane Dembele.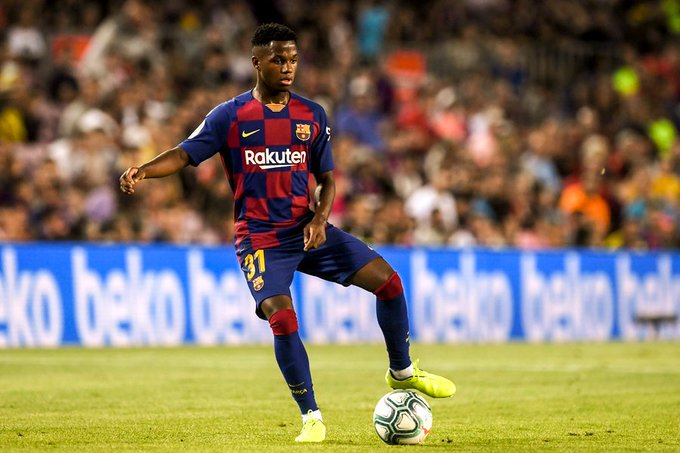 In the UEFA Youth League last season, the 16-year-old scored four goals and registered three assists in nine starts as the team reached the final. His popularity rose when he made his senior debut on Sunday but with history, becoming the youngest player to play for the club since Vicente Martinez in 1941.
After the match, a wonderful present was waiting at the tunnel- Messi's nice hug!
This excited Barca fans, claiming that the Argentinian has finally got his successor. Here are some of their reactions;
Oh my God! Messi and Ansu Fati, I'm crying 😭😫 pic.twitter.com/gdNa8tTL0t

— S P L O O F E E K (@sploofeek) August 25, 2019
Messi now has his successor in Ansu Fati

— Wɔfa Yaw (@yawanaman) August 26, 2019
https://twitter.com/Milestonemonger/status/1165888301774950401?s=20
How can you sub messi for ansu fati @11carlosV @LAGalaxy come

— nordeen400 (@nordeen400) August 26, 2019
Ansu fati, 16 years old have first me to hug Messi in this life ❤️💙❤️💙❤️💙👏 pic.twitter.com/bE1iPupEii

— ADEYINKA💙❤️ (@Yinky9) August 26, 2019
Mixed feelings fr, #Messi has been doing handling over lately.. I'm afraid what the game would look like without its god😤#Ansu_Fati pic.twitter.com/XsUErK09zW

— tomiwa kol (@TomiwaKol) August 26, 2019
The present (lionel messi) and the future @fati_ansu… What a spectacular display by the 16yr old… The future is here….. pic.twitter.com/ZBcmHDwZrv

— Adeyomoye chris (@pastorchristob1) August 26, 2019
Bissau-Guinean winger Ansu Fati became the second youngest player to make an appearance for Barcelona in LaLiga since Vicente Martinez in 1941. He was on the pitch for 10 minutes and almost came close to score. Lionel Messi was very impressed with the 16-year old. pic.twitter.com/TaaPGn6KXl

— Faisal Caesar (@faisalyorker1) August 26, 2019
"Great game from everyone," Messi wrote on Instagram, accompanied by a photo of him embracing Fati and a photo of Carles Perez celebrating his goal.
"We get our first three points in LaLiga and I'm really happy to see the La Masia kids, fulfilling their dreams of playing and scoring in an official game at the Camp Nou," the message continued.